Festive flavours
Decadent delights

With more than 20 years experience in catering and fine dining, Andrew Draper is passionate about creating memorable food. "My pride is on the plate," he says. "I like to create comfortable, innovative, food combinations, mixed with classical food elements with an inventive, clean twist."
Andrew put together an exciting yet not-too-complicated menu for our SA-style Christmas feast.
Starters: A Cold Crayfish Salad, served on marinated oranges and strawberries, with goats' cheese rolled in edible flower petals and sesame seeds.
Mains: Chicken stuffed with Gingerbread and Bacon Stuffing with a bacon crust;  Bacon-wrapped sausages; Heirloom Tomato Salad with fresh herbs.
Dessert: Festive Tropical Fruit and Berry Pavlova
Gingerbread and Bacon Stuffing
Ingredients
3 onions, finely chopped
3 apples, peeled, cored and chopped
50g butter
1 tablespoon oil
750g streaky bacon, finely chopped
Zest of an orange
450g gingerbread, crumbled
2 eggs
Pepper to taste
Method:
Fry the onions and apples in the butter and oil until soft, then add the bacon and slowly cook through. Add the orange zest and cool. Squelch in the eggs and gingerbread and season with pepper. Either bake in your chicken or turkey, or bake in a bread tin for 45 minutes at 180'c
Pavlova meringue
(I usually double the recipe to make two and place one on top of the other with cream in the middle).
Ingredients
4 large egg whites at room temperature.
Pinch of salt
1 cup castor sugar
2 teaspoons cornflour
1 teaspoon white wine vinegar
½ teaspoon vanilla extract
Method:
Preheat oven to 140'C. On wax paper, make an approximately 20cm round with a pencil, using a plate or bowl as a template. Flip the paper over, you don't want the pencil mark on your pavlova.  Spray like mad with Spray & Cook. Beat egg whites in a clean machine, using the whisk attachment with a pinch of salt, after soft peaks occur, add the sugar, a little at a time with the machine running. Beat until rich shiny and smooth, and then beat in the cornflour and vinegar. Place the mixture on the wax paper and bake in the middle of your oven for one hour, and then turn the oven off and let it cool inside. Don't be silly and open it unnecessarily, that will make it flop.
Garnish with whipped cream and fresh festive fruit and even a fresh fruit curd.

Andrew's secret salad dressing 
Yield:- 1 litre
250 ml red wine vinegar
1 small onion, chopped
30ml parsley
4 gherkins
¼ cup capers
1 egg yolk
10ml English mustard
5ml Worcester sauce
½ bunch spring onion
3 garlic cloves
500ml olive oil
Liquidise all ingredients except the olive oil, which you dribble in, with a steady stream whilst the machine is running to get a rich textures
A pimped up version of the simple salad we did
PLUM TOMATO SOUP, WITH CAPRESE GARNISH
Yield:- 6 portions
500g very ripe tomatoes, halved and seeded.
500g cherry tomatoes
300ml great tomato juice
45ml white balsamic
2 cloves garlic, very finely minced
Salt and pepper to taste
Garnish:
Small mozzarella balls
Basil leaves
Mixed cocktail tomatoes
Olive oil
blend all the tomatoes, juice, balsamic and garlic, and then pass through a fine sieve

check the seasoning, and chill in the vreezer for half an hour… you might as well put your soup plates there as well.
On cold plates, arrange the rest of the ingredients attractively, and season with slat and crushed pepper, dripple in the soup and finish off with good olive oil.
My special dressing to pour over roasted potatoes and vegetables, which can be served either hot, or cold as a salad.
AVOCADO AND GARLIC MAYONNAISE 
Yield: 500ml
Mayonnaise recipe;
3 egg yolks
1 tablespoon Dijon mustard
Salt, pepper
Juice of two lemons
300ml olive oil
Juice of one onion
2 avocados, peeled
Basil
2 garlic cloves
2 tablespoons chopped parsley
In a food processor, add egg yolks, salt, Dijon mustard and the lemon juice together, and whilst the machine is processing, dribble in the olive oil. You should get a thick mayonnaise.

Soak the avocados in the onion liquid, and then add with the rest of the ingredients to the processor bowl and blend until smooth.

Season

ORANGE AND CRAYFISH SALAD (I sometimes substitute the crayfish, with cooked prawns, smoked salmon or Parma Ham  
Serves 6
6 oranges, peeled and sliced
50ml honey
Pinch of salt
100ml olive oil
70g (1 packet) fresh rocket or watercress
Slices of cooked crayfish, or whole peeled prawns
Toasted sesame seeds
Honey
Cucumber ribbons (use your vegetable peeler)
100g soft goats cheese rolled into balls
Edible flower petals, (dianthus, nasturtium, rose petals, snap dragons, pansies, violets, marigolds etc..)
1 bunch spring onions, chopped
Sprigs of either chervil, pea shoots or dill as a garnish, optional
Place the orange slices in a large flat dish.
Sprinkle with salt and dribble over the honey and olive oil.
Marinade for at least two hours, a whole day is best.
To plate, use honey to make a circle on the plate, dust with sesame seeds and shake the plate so the seeds stick to the honey
Arrange the oranges attractively on a serving platter. Reserve the liquid as a dressing.
Arrange cucumber, rocket, or watercress, following the circle
Dust the goats cheese balls with flower petals and sesame seeds and chopped spring onions and arrange, with slices of crayfish attractively.
I like to arrange raspberries, or slices of strawberries to the dish to lighten it.
Dress with the orange marinade just before serving.
Setting the scene
Whether you're going for a laid-back garden setting, or something a little more upmarket in the evening, it's really easy to localise your Christmas table without resorting to cheesy ornaments and plastic candy canes from your granny's Christmas box!
Owner of The Creativity Lab, Tash used her natural skill and experience to whip together two versions of a South African Christmas setting: one for a more high-end feel, perfect to compliment an array of settings in any home and great for a Christmas Eve sit-down dinner, and the other a more playful version, with some fun, traditionally South African elements.
Tash says she sourced the items from a variety of places, including her garage and kitchen! "A lot of the stuff used here can be purchased at your local grocery or home décor stores (in particular, Glenore in Glenashley has an amazing array of Christmas settings to plush-up a table for Christmas).
The first table oozes class and style, with the use of a variety of beautiful proteas and succulents and classic gold candles and candle holders. It is also very on-trend with the use of brass plant holders and natural wood tables (both very popular at the moment).
The second table has a much more chilled, quirky setting with elements like Coca Cola cans, tins of Koo beans and little wooden handmade name tags. "It's always nice to make your guests feel special with name tags and spoil them with little pressies. Also, always try and use fresh flowers where possible and make sure your cutlery is clean!"
Get In Touch
Andrew Draper: 082 696 6669 / andrew@andrewdraper.co.za
Tash Sutherland: The Creativity Lab: 082 660 7472 / tash@thecreativitylab.co.za

Text: Leah Shone | Photographs: Taryn van Rensburg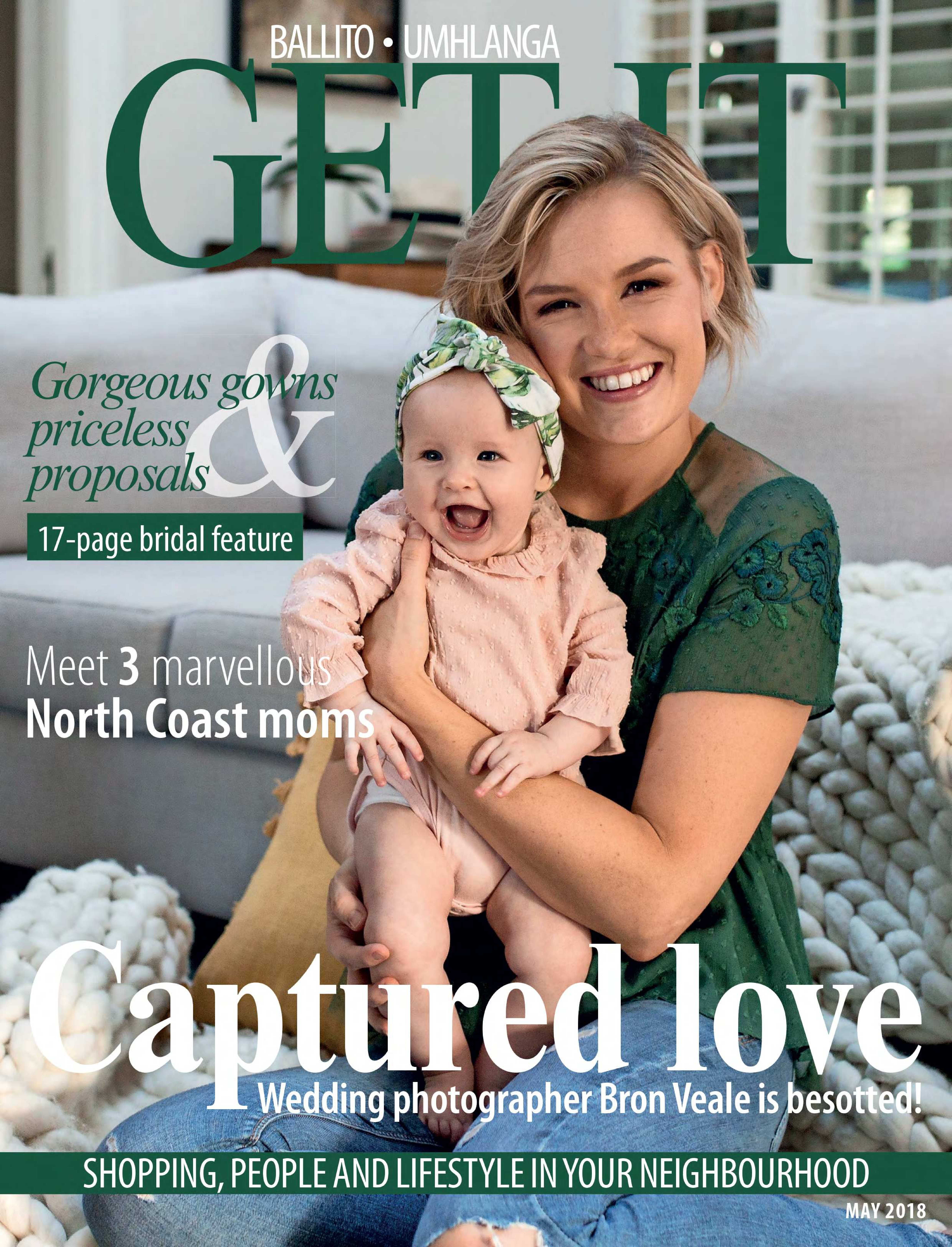 is a national brand of premium free magazines available in centres across the country.
to see other Get It magazines in the network.