Journey to recovery
Tim can't run. He can't walk long distances and, while his prognosis looks good and doctors believe he will fully recover, his journey to recovery is still going to be a long and hard one.
From being 'on top of the world' as a young, successful entrepreneur and accomplished Roof of Africa enduro motorcycle racer, Tim's world came crashing down around him in January when he was involved in a severe car accident that nearly cost him his life.
"I was on a job filming a convoy of cars in Cape Town. We were the lead car. The driver was not concentrating and veered off the road, ramping a small drainpipe bridge with a railing. I was partially thrown out the back seat of the BMW X5, which then rolled to the left causing the roof to come down on my stomach."
The weight of the vehicle forced Tim's organs into his chest, rupturing his colon and causing severe damage to other parts of his stomach. The vehicle then rolled back onto his pelvis, breaking it in two places (known as an open book fracture).
Then, believe it or not, things got worse. It was discovered that Tim was not covered by medical aid (he was in the process of changing over) and it took emergency services two hours to get to him. Once they eventually arrived he was transported to Clanwilliam Hospital. The doctors there were not capable of performing the operation he needed and he was then transported via ambulance to another facility three hours away. By this time, Tim had started to choke on his blood. "I had to slow my heart rate in order to decrease the amount of blood entering the wound inside my stomach. I slowed my breathing and visualized myself and my girlfriend Nicole on a beach, relaxing and then getting married and having kids . . . all the things I knew would make me want to stay alive."
After 12 hours of agonizing pain and very nearly dying, Tim arrived at a private hospital where doctors told him his chances of survival were slim. After a four-hour surgery, Tim says he came out dazed but still remembering everything that happened. And when his mother and girlfriend arrived, he knew he could start focusing on recovering.
Since then Tim has undergone four more operations. The second one saw doctors reattaching his pelvis. "They got me up the day after the op and walking became a daily chore. I felt like I was carrying 50kg's of liquid in my belly, which had been cut from my pelvis to my ribs." A few days later Tim's blood tests showed infection and his life was in danger once again. A scan showed that his lungs had filled with two litres of liquid and had partially collapsed. He went in for this third surgery and woke up on a ventilator. The fourth operation was to drain fluid from Tim's back, and he was in ICU for two weeks. He then had to live with a colostomy bag, which he recently had removed in his final surgery just a few weeks ago.
After six months of intense physiotherapy, Tim has started to see the light at the end of the tunnel. He admits to having hit some serious lows along the way. "While having a CT scan on the day of my third operation, lying in total discomfort in the small, humming machine with warm dye running through my veins for an hour, I broke down. I cried as they wheeled me back to the ICU, with thoughts of death and leaving behind the plans I made and loved ones I would miss. So often you hear the words 'life is short' but something like this truly reminds you that you're not meant to stay in this world, you're here for a short period and then are gone in an instant. I wiped my tears and carried on fighting through the night."
Asked how this trauma has changed Tim's plans and outlook on the future, he says, "It has reminded me of the importance of having your finances, medical and life insurance in order. I failed at that and have had to pay an even bigger price on top of the accident. When it comes to plans though, I don't stress too much about the future or the past. All we really have is the present and the sooner you let go of trying to control your future or changing the past, the sooner you can have a full life."
On the subject of car accidents Tim says people need to remember that educating people to drive without distractions is of paramount importance. "We see stories about car accidents every day and we are literally driving weapons. Driving requires your undivided attention, not only for your safety but the lives of the people in the car and on the road around you."
Tim made a short video, telling people about his accident which he posted on social media, he ends the video with these poignant words, "Cherish every day. Today is a gift and tomorrow is not promised."

Text: Leah Shone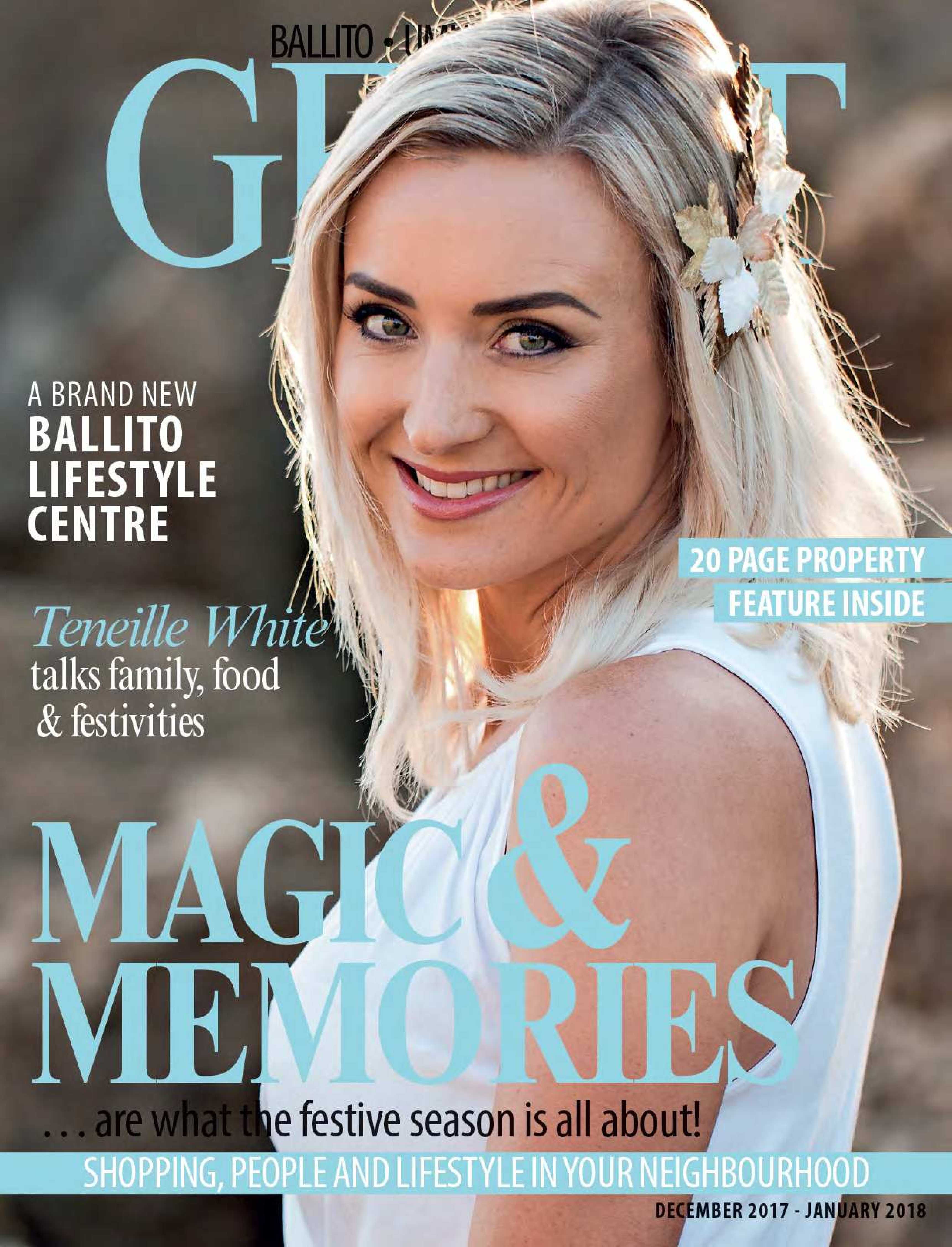 Get It Magazine (Ballito/Umhlanga) – December 2017 – January 2018
View magazine

WIN a nights stay at Teremok including a full body massage
Stand a chance to win a night's stay for two people sharing (on a bed and breakfast basis) valued at R4050, as well as a full body massage per person at Teremok Spa valued at R590 each.
WIN a pair of Rogue or Rebound sandals from SAINT&SUMMER
We have a pair of Rogue and a pair of Rebound sandals from SAINT&SUMMER to giveaway…
WIN a 600W NutriBullet
We have a 600W NutriBullet to giveaway to one lucky reader…
WIN a Robertson Winery Summer Hamper
We have a Robertson Winery summer hamper worth R700 which will include a six-bottle case of Robertson Winery Lightly Sparkling Sauvignon Blanc 2016…
WIN a SVR Sun Secure hamper
We have a SVR Sun Secure hamper valued at R1530 to giveaway to one lucky reader…
WIN a signed copy of Dan Brown's Origin
We're giving away a signed copy of the book to one lucky reader!
Win a Daniel Wellington watch
We have a Daniel Wellington watch to give away to one lucky reader…
WIN a family combo on board the Holiday Express
We have a family combo valued at R800, which includes tickets for two adults and two kids under the age of 12, to be used before the end of January 2018.
Festive Spoil
Travel in Lipault style!
WIN a LINDT HELLO EMOTI hamper
In celebration of the all-new collectable LINDT HELLO EMOTI tins, we have a hamper valued at R550 to giveaway to one lucky reader…
is a national brand of premium free magazines available in centres across the country.
to see other Get It magazines in the network.