Giving back
SOLE MATES FOUNDATION
It's not every day you come across a 12-year-old girl who spends her free time collecting and cleaning old shoes and then going out and giving them to people who need them. Sole Mates founder Tatum Teunissen does exactly this.
Give us a bit of background about yourself and your family.
I am 12 years old and in Grade 6 at Crawford La Lucia. We live in Durban North and my family runs The Baby House, a transitional home for abandoned babies. My dad is the deputy principal at Crawford La Lucia and my mom works with the babies. I have a sister, Kiara (16) who is in Grade 11 and a brother, Emmanuel (4) who is in Grade 00. We adopted Emmanuel when he was 18 months old and he was the main reason for my family deciding to start The Baby House.
How did you come up with the concept of Sole Mates?
Our family enjoys doing charity work and we always get involved where we can. A few months ago we started helping at an outreach programme in Greyville. There are normally about 70 children who come on a Monday night. We fetch them in a bus from the Point area and bring them to the church in Greyville where we give them supper, play games, sing and do activities with them. Sometimes people donate things for the children, which we then distribute. One week someone had donated shoes. There were not enough shoes for everyone and some of the children were a bit upset. I decided then that I needed to do something to try get more shoes. I started asking friends and family to give me any old shoes they had and got such a good response. I asked my mom to help me set up a proper Facebook page so that I could ask more people and get more shoes for more children.
Tell us a bit about what you guys do?
I basically just collect old shoes from people, clean and sort them and then pack them into sizes. Then I find different places that need shoes. I have given to other charities, children's homes and even to children we see on the streets. It is so good to see their happy little faces when they get a pair of shoes. I also made sure that everyone at Greyville got a pair of shoes.
How can the general public get involved?
Anyone can get involved by sorting out their cupboards and giving us any of their shoes that they don't wear anymore so that I can sort them and hand them out.
THE LEARN PROJECT
Five years ago, Ros Toerien and her friend Lucy Pienaar decided they wanted to make a difference in South African schools, where reading books and stationery are often in short supply. And so, The LEARN Project was born.
Give us a bit of background about yourself.
I am a wife and mother of three beautiful children. I am a teacher who is proudly South African and passionate about education and making a difference to the futures of the less fortunate. I have always hoped to instill a love of reading and learning in my own children, who have grown up loving and looking forward to story time at night. My husband is my sounding board and he often brings wisdom and great insight to the projects that I am working on.
How did you come up with the concept of The Learn Project?
Books are essential to fostering a positive and effective learning environment. Many South African schools, however, do not have the resources to supply their learners with these vital materials. Most of the children in these schools have never even been into a library. Our dream is for a South Africa where all schools have access to reading books, so that all children can discover the joy of reading and learning through books.
Tell us a bit about what you do?
We are a non-profit trust that reaches out to schools and children in need. Our goal is to equip schools with reading books and create sustainable libraries and classroom book corners. Many Durban schools are collection points for pre-loved book and LEARN has also implemented a buddy-system with various high schools in Durban where learners have a specified number of community service hours they are required to complete. They spend these hours cleaning, sorting, stamping and covering books. To date LEARN has donated  20 689 books, established six school libraries and placed book corners in 26 schools.
How can the general public get involved?
We rely heavily on volunteers, sponsors and donors. It really is a community based project that appreciates and values time given, financial support or shared skills. People can get involved by donating children's books and empty apple boxes, sorting books, covering books in plastic, setting up collection point at your office/school, setting up libraries and book corners, fundraising assistance.
Get In Touch
Sole Mates: Shoes can be dropped off at The Baby Home / 11 Pigeonwood Close. Facebook: Sole Mates Foundation.
The Learn Project: ros@thelearnproject.co.za / 071 853 4473. Donations – The LEARN Project, Standard Bank: 051402637 / branch Code: 042826 / PBO number: 930055663

Text: Leah Shone and Monique De Villiers-Delport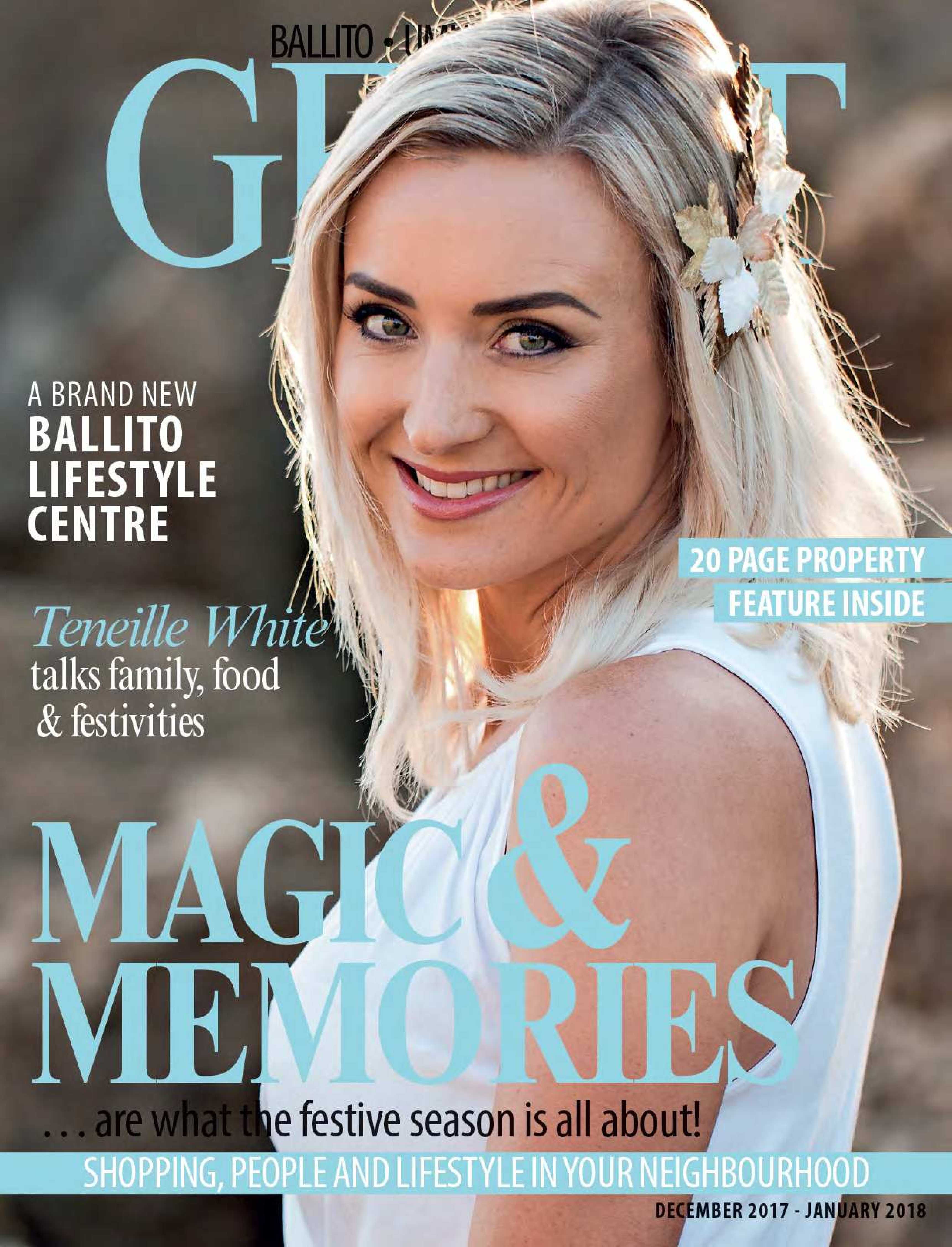 Get It Magazine (Ballito/Umhlanga) – December 2017 – January 2018
View magazine

WIN a nights stay at Teremok including a full body massage
Stand a chance to win a night's stay for two people sharing (on a bed and breakfast basis) valued at R4050, as well as a full body massage per person at Teremok Spa valued at R590 each.
WIN a 600W NutriBullet
We have a 600W NutriBullet to giveaway to one lucky reader…
WIN a Robertson Winery Summer Hamper
We have a Robertson Winery summer hamper worth R700 which will include a six-bottle case of Robertson Winery Lightly Sparkling Sauvignon Blanc 2016…
WIN a SVR Sun Secure hamper
We have a SVR Sun Secure hamper valued at R1530 to giveaway to one lucky reader…
WIN a signed copy of Dan Brown's Origin
We're giving away a signed copy of the book to one lucky reader!
Win a Daniel Wellington watch
We have a Daniel Wellington watch to give away to one lucky reader…
Festive Spoil
Travel in Lipault style!
is a national brand of premium free magazines available in centres across the country.
to see other Get It magazines in the network.