Travelling Culinary queen
She has worked on all seven continents, including cooking for clients in Antarctica and the Mercedes AMG Petronas F1 Team. But now 32-year-old Justine's focus is on her Umhlanga-based private chef and catering company, Justine Lindsay Food.
Having travelled the world, cooking for some of the biggest celebrities and sporting stars, Justine has been living her dream and following her passion since the age of 14.
Her childhood spent on a farm in a small farming town in KwaZulu-Natal, it was here that Justine's fascination and passion for 'all things food' was nurtured and her dreams of becoming an international chef were born.
"I grew up on a farm with parents who love and celebrate food. This fostered a real passion for fresh ingredients and developed a deep understanding of their source for me. I loved the seasonal aspect of growing food and its connection to the land," says Justine.
After school, Justine says it was a natural progression for her to made food her career. She attended the Institute of Culinary Arts in Stellenbosch and later worked for several restaurants in the Western Cape. Justine's dream was always to work as a chef on all seven continents and she set off for London where she worked for a high-end catering company. It was here that Justine spent time alongside some of the world's greatest chefs.
Justine's next major career move was working for Mercedes AMG Petronas Formula One Team as head chef for the race team. "I travelled the world with the F1 circuit, where I got to cook for and meet so many of the world's top Formula One drivers. It was a dream job and I will always treasure the memories and friendships I made along the way."
Cooking for the likes of Michael Schumacher, Lewis Hamilton and Nico Rosberg, Justine was responsible for organizing the food for everyone from the engineers to the VIP's, while keeping in line with the driver's nutritionist's requirements and logging their food for their trainers. Food is of paramount importance to the drivers and if they are not on the right diet it affects how they drive.
"The first driver I cooked for when I started with the F1 Team was Michael Schumacher. That was a massive honour and he was the most awesome person. Calm, well spoken, polite to all the staff and generally undemanding." She then went on to cook for the current four-time world champion, Lewis Hamilton.
"The first time I met Lewis I was in Abu Dhabi and he came into the kitchen via the back door and asked me what I was cooking. I remember going extremely red and then I think I mumbled something about a tomato sauce. He probably thought I was daft. Lewis was an awesome person to work for. He is always considerate and really appreciative if you produce an exceptional meal for him – and enjoys a good chat over food.
"Never did I feel like I was essentially his chef, he made me feel part of his family and home."

Justine and her team were based in London, but spent the year travelling between Spain, Bahrain, Melbourne, Malaysia and China to name a few.

They faced challenges like long working hours, jet lag, dealing with suppliers and the six circulating sets of kitchen equipment while the F1 tour followed the Summer months.
"I made so many unexpected friendships. The experiences you have together, from the team dinners with the amazing drivers to the incredible sights we got to see, I loved every second of working for Mercedes."
After several years abroad, Justine returned to South Africa, while still routinely visiting the USA to cook privately for Lewis Hamilton and other clients. It was then that Justine, ever the adventurer, landed a job with White-Desert – a luxury camp based in Antarctica.
Now Justine has finally returned home to do something she has always wanted to do – run her own catering company. "I'm now 32 years old and, while the wild part of me could have travelled forever, I think it's important to put down some roots and get to know my family again."
Justine says cooking is her 'happy place', which is why she is excited to be spending Christmas with her family on her dad's farm in Kokstad where they will be sharing presents and having a large traditional Christmas lunch with a big gammon, chickens, large salads, roasted potatoes and a traditional Christmas cake.
JUSTINE'S TOP SIX TIPS TO HANDLE COOKING CHRISTMAS LUNCH:

1. Decide on a menu.
Find out what your guests love and try to include a bit of everything they enjoy. You can't satisfy everyone, but you can try create a menu that everyone can enjoy and appreciate.
2. Write a shopping list.
Firstly, write a list of your dry ingredients. This can be purchased way in advance. Then write one for your meat. This can be done a few days – or weeks – before Christmas. Lastly, write a fresh produce shopping list. Breaking up the list into three parts and three shopping trips makes it less daunting – oh and maybe a fourth list for the alcohol shop, that's important too!
3. Write a prep list.
This can be done a few days or weeks before Christmas.

4. Divide up the meals.
If you are having a big family gathering, don't tackle all the jobs yourself, divide up the meals between family members playing to each member's strengths. Ask someone to make a salad or bring a dessert, if you hosting a massive Christmas, many hands make light work. Don't be too shy to ask for help!
5. Prep, prep, prep!
Gravy, for example, can be made weeks before and frozen. If your family makes pickles or braised red cabbage, that too can be done and kept in the fridge in a jar. Potatoes must be peeled the day before Christmas. All that should be done on Christmas morning is the final finishing touches such as the roasting of the meat!
6. Enjoy the day!
Christmas is about tradition, not creating gastronomy. It is just about cooking lunch with love.

Get in touch
info@justinelindsayfood.com |083 3097757 |www.justinelindsayfood.com
Text: Monique De Villiers-Delport | Photography by Chris Allan, www.chrisallanphoto.co.za | Stylist: Kirsty Brunskill of Lindley & Co.
RECIPES:
3 CHEESE ARANCINI WITH PRESERVED FIGS
Makes about 25 arancini balls, depending on how large you choose to make the balls. This recipe will serve about 6 guests, they can each have more than 3 balls each, again depending on how large your choose to make them.
Ingredients:
1 litre vegetable stock (either home made or use ina parman)
2 tablespoon olive oil
1 tablespoon butter
1 teaspoon salt (more to taste if needed)
1 tablespoon finely chopped thyme
2 sprigs of thyme
1 cup white wine
1 white onion, very finely chopped
2 cloves garlic, crushed well
330g ( 1 ½ cup) Arborio 'risotto' rice
40g (1/2 cup) finely grated parmesan
40g finely chopped camembert
40g finely grated pecorino
4 eggs
180g (2 cups) panko breadcrumbs
150g plain flour
Vegetable oil, to deep fry
Preserved fig, for garnish
Method:
Step 1:
Place stock in a medium saucepan over high heat and bring it to the boil, reduce the heat.
Meanwhile, heat the olive oil and butter in a large saucepan over medium heat.
Add the finely chopped onion, 2 sprigs of thyme and garlic and fry very gently, stirring continuously, do not let it catch the bottom of the pan, it must gently sweat.
Cook for about 5 minutes or until the onions are cooked.
Add the rice to the onion mixture and mix well, but gently.
Add the white wine and gently let it reduce into the rice, keep on stirring.
The rice will start to look glassy.  Add a ladleful, about 125ml simmering stock to the rice mixture and continue to stir, the liquid will slowly be absorbed, add another ladleful, about 125ml simmering stock, stir the rice, adding more and more stock until your rice is cooked.
The rice must be tender yet still firm to the bite and the risotto will appear creamy.
Add the chopped thyme, salt, add the 3 cheeses, and fold them into the risotto slowly, do not over mix.
Always taste, you may need more salt.
Let the rice cool.
Set aside in the fridge for about 2 hours.
Add x 1 mixed egg and stir until well combined.
Step 2:
Place the breadcrumbs in a tray.
Place the flour in a bowl.
Crack the remaining eggs into a separate bowl and whisk up using a fork.
Step 3:
Use damp hands to shame 2 tablespoons of risotto mixture into a ball. 
Repeat this process until all your lovely risotto balls are nice rounds, you kind of want the size a little smaller than a golf ball, but the size is completely up to you.
Roll the balls in the flour and shake of any excess. 
Dip in the egg, then into the breadcrumbs, pressing the coat gently.
Place on a large tray and pop back into the fridge or freezer to set a little, so not so soft.
Step 4:
Add enough oil into a large saucepan to reach a depth of about 8cm.
Heat to about 190 degrees over a medium heat (when the oil is ready a cube of bread will turn golden in 10 seconds).
Add a few risotto balls, about 6 – 8 of them into the oil and cook, turning occasionally, for 4-5 minutes or until golden brown. 
Use a slotted spoon to transfer to a plate lined with paper towel, repeat, in 3 to 4 more batches. 
Place the risotto balls on your serving dish, and serve with a cut up quarter of your preserved fig, enjoy.
LIGHTLY CURRIED SCALLOPS, SERVED WITH CAULIFLOWER PUREE, FENNEL SALAD, POMEGRANATE – PINE NUT DRESSING
(serves x6)
For the fennel:
(the fennel is to be served on the plate with the scallops, the scallops will go on the cauliflower puree, and the dressing on the scallops)
Ingredients:
1 fennel
½ a lemon
2ml olive oil
5ml chopped dill
2ml salt
Method:
With a very sharp knife, slice up the fennel, you almost want to shave it.
Once all chopped, add your olive oil, chopped dill and salt to the fennel and lightly toss, your fennel salad is now ready to plate.
For the cauliflower puree
Ingredients:
15ml butter
5ml olive oil
10ml salt (use more if needed, always taste)
1 small fresh cauliflower
1 white onion, finely diced
2 medium cloves of garlic, chopped
2 cups heavy double thick cream
3 sprigs thyme
Method:
Dice up the cauliflower; it must be diced and chopped rather small. Don't use the stalks.
In a medium saucepan, melt the butter, adding the olive oil to the butter.
Add the finely diced onion, garlic and thyme and gently sweat on a medium to low heat, stirring to prevent onion mixture turning brown.
Add all the chopped up cauliflower to the onion mix.
Stir around for about 3 minutes, then add the cream.
Cover the cauliflower with a cartouche (a cut out circle of greaseproof baking paper used to cover a dish), or just use a lid.
Gently just cook the cauliflower to just below simmering point, stirring occasionally until the cauliflower is well cooked. 
Add the salt, remove the thyme and taste taste taste.
Add everything into the food processor and process on high until you have a smooth and shiny puree.
For the Pomegranate and pine nut dressing
Ingredients:
1 whole pomegranate
Pinch of salt
½ cup pine nuts
10ml capers
15ml olive oil
½ fresh lemon
10ml chopped dill
Method:
Lightly roast the pine nuts in the oven on about 180 degrees for about 8 minutes, until light golden brown.
Once toasted, cool.
De -seed the pomegranate and put into a bowl, add the capers, olive oil, cooled pine nuts, chopped up dill and mix, add a squeeze of lemon and a pinch of salt to taste.
For the scallops:
3 each
Ingredients:
18 scallops, cleaned, roe off
water (to clean scallops)
5ml to 10ml salt
5ml rajah medium curry powder
10ml oil
10ml butter
1 lemon
Method:
Clean the scallops, gently removing the roe from the scallop, gently run the scallops under fresh water and place on a paper towel, you want to dry them before frying.
Once the scallops are dry, heat your frying pan and add the oil.
Season your scallops with a heavy seasoning of salt, pinch of sugar and sprinkle with the curry powder.
Sear your scallops (place the scallops, serving side down), and let them sear one side for about a minute or so until golden brown, then flip the scallops over and drop in the butter and a squeeze of lemon. 
Your scallops will be cooked, nothing worse than a over cooked scallop, when cooked they will be slightly firm, if they like rubber then you have seared them to far, there is a very fine line with scallops.
FESTIVE CHRISTMAS CABBAGE SUMMER SLAW
Ingredients:
1/2 red cabbage (medium sized red cabbage)
1 large beetroot
2 medium carrots
2 sticks celery
1 fennel
1 lemon (squeezed for the juice)
4 tablespoon olive oil
4 tablespoon sherry vinegar
2 tablespoons caster sugar
1 teaspoon salt
25g coriander leaves, roughly shredded
25g flat leaf parsley, roughly chopped
25g fresh mint, chopped with a very sharp knife
1 tablespoon grated lemon zest
Chopped nuts (optional, I always add toasted pecans)
Peel all the vegetables (the beetroot, carrots, celery).
Slice the vegetables thinly, about 2mm thick, or use a mandolin or food processor, I like a mixure of match stick shapes and finely sliced shapes.
Place all the vegetables, minus the herbs into a bowl, and cover with iced water.
Set aside and make the dressing.
Dressing:
Place the lemon juice, olive oil, vinegar, sugar and salt into a small saucepan.  Bring to a gentle simmer and stir until the sugar and the salt have dissolved. Remove from the heat.
Drain the vegetables and transfer to a paper towel to dry well.
Dry the bowl and replace the vegetables.
Pour the hot dressing over the vegetables, mix well and leave to cool.
Place in the fridge for about 30 minutes.
When ready to serve, add the herbs, nuts, lemon zest and 1 teaspoon of black pepper to the salad, toss well, taste and add more salt if needed. Pile onto a serving plate. Great for a table feast, and goes well with chicken on a hot summers day.
PISTACHIO NUT ICE CREAM (serves 6)

…this pistachio nut ice cream is for our Christmas Wreath pavlova
Ingredients:
X1 tablespoon ground cardamom
500ml (2 cups) full cream milk
50g peels honey honey
150g caster sugar
120g pistachio nuts, shelled if you wish, chopped, to decorate
150ml double cream
Method:
Put the milk in a pot, add the cardamom and simmer for about 3-8 minutes, allow to cool, strain.
In another bowl, mix the egg yolks, honey, and sugar, until creamy.
Add the cardamom flavored milk a little at a time, to the yolks, honey and sugar, continuously whisking, make sure all the milk is added.
Place the mixture on a double boiler and cook very slowly for about 10 to 15 minutes.  (basically a bain marie is a heat proof bowl, set over a pot that has a little water in it but making sure the water does not touch the bowl).
Keep stirring/whisking to avoid lumps.  Cover with clingfilm and set the mixture in the fridge until completely cooled. 
About 3 hours later, or even the next day, churn the mixture in an ice-cream machine for about 30 minutes.
Meanwhile, in the food processor, process the pistachios to a fine cream.
In a bowl, half whip the double cream, you still want it softish.
Add the pistachio cream, whipped cream to the ice-cream machine in the last 5 minutes of churning.
The ice-cream is now ready to eat.
If you don't have a ice-cream machine, put the ice-cream mixture into a container in the freezer for about an hour, then beat it with a fork and return it to the freezer.  Do this two or three times.  The last time you do this, add the cream, nuts, then leave to freeze until firm.
Serve with chopped pistachio nuts if you wish.
MERINGUE FOR THE PAVLOVA (pavlova wreath)
(this recipe will make x1 large wreath pavlova, or 8 large meringues)
All you really need for this recipe is a nice electric beater….preferably freestanding or your arm may get tired.
Recipe:
300g egg whites (free range would be kind)
600g caster sugar (super fine sugar)
Method:
*pre heat oven to 200 degrees.
*spread the sugar evenly on a large tray lined with baking paper.
*place the tray in the oven for about 8-10 minutes, or until the sugar is hot (over 100 degrees), you should see it beginning to dissolve at the edges.
*while the sugar is in the oven, place the egg whites in a bowl of the freestanding electric mixer fitted with whisk attachment. 
*start to whisk up the egg whites for about 2 minutes, and when the sugar is roughly at about 100 degrees (should be after about 8 minutes), slowly add the sugar into the egg whites, while you are continuously beating, on high speed.
*continue whisking for about 10-12 minutes, or until the meringue starts to cool down.
*the meringue should now be looking like uncooked meringue, it should be firm and when the bowl is turned upside down, it should not fall out.
*line a baking tray with baking paper (non stick) and simply dollop the meringue in a circle, I like my wreath circle pretty rustic, so its up to your how neat or how untidy you want your wreath to be.
*once you have a large circle, with all the meringue used up, place the tray in a pre heated oven at 110 degrees and leave in the oven for about 2 hours. 
*to check if your meringues are done, the outside should be really firm, the center will be slightly soft. 
*remove from the oven, cool.
For the Pavlova:
Ice cream, recipe above, about 5 – 8 balls are needed for the middle of the wreath
x1 cup blueberries
x1 cut strawberries, cut in half
x0.5 teaspoon nutmeg
2 tablespoons runny honey
x1 vanilla pod scraped out
x1.5 cup double cream
Fresh mint to garnish
Pistachios to garnish
Method:
*In a clean bowl, add the 1.5 cups of double cream, whisk the cream until its just firm, not too firm thou.
*Add the runny honey, vanilla pot and nutmeg to the cream, fold together gently.
*Compile your pavlova any way you see fit, but what I would do it put the meringue on a lovely rustic board, I would then dollop my cream, on top of the pavlova, leaving the middle clean.
*Once the cream is on the pavloa, I would make about 5 – 8 neat balls of the pistachio ice cream, place them piled up in the middle of the pavlova (wreath).
*Gently sprinkle on your blueberries and strawberries, and add some torn mint  and chopped pistachios on top of the fruit
*ENJOY!
CHOCOLATE-MACADAMIA & BRANDY TRUFFLES "yule log Christmas shape"
Makes about 25 truffles
Yule log shamed Christmas truffles, but can also be made into little balls.
Ingredients:
50g Macadamias, lightly toasted and chopped well
60g milk chocolate, blitzed in a food processor until fine
180g dark chocolate (70% cocoa solids), again blitzed in a food processor until fine….plus extra 100g dark chocolate, melted, for coating
60ml double this cream
30g unsalted butter
50ml brandy
50g dutch-processed cocoa powder, for dusting
Method:
*preheat oven to 180 degrees and spread the macadamias out on a baking tray and roast for about 8 minutes.  Remove from the oven set aside to cool, then chop very small pieces.  Set aside.
*Place the 60g milk chocolate and the 180g dark chocolate into a large heat proof bowl.
*In a medium saucepan heat all the cream and butter up, slowly, boil, as soon as its boiled, pour the cream mixture over the chocolate, leave for a minute, then gently stir to melt the chocolate.
*If there is any solid chocolate remaining, place the bowl over a pan of gently simmering water to help the remaining chocolate melt.
*Add the brandy and the macadamias and gently fold until a smooth ganache is formed.
*Set aside, at room temperature so that the mixture is firm enough to pipe into your Yule logs. Give the chocolate ganache a stir from time to time, it takes time to set, but be patient and do not put it in the fridge, it will be horrid.
*Transfer the mix to a piping bag fitted with a 1cm nozzle and pipe about 7 30cm long logs onto a large baking proof paper lined tray. Place in the fridge for about 20 minutes to set, then cut the logs into five smaller logs, each about 6cm long, using a warm knife will help you to cut more neatly.
*Have the extra 100g melted chocolate ready in a bowl, and the cocoa powder in a separate bowl.
*Dip one log at a time into the chocolate to lightly coat the log, then roll it into the palm of your hand to remove excess and ensure that the chocolate coating is nice and thin and sets evenly.
Once dipped and excess is removed, dust with cocoa, you can gently toss the logs into the cocoa bowl, then shake off excess and remove, ready to serve!
Keep in an airtight container for about 2 weeks in the fridge.
Yummo!
PEACH CINNAMON SLING
(this is my fav cocktail, I visited raffles hotel many times, it's the famous hotel in Singapore, that serves the Singapore sling, so I created my own for fun)
60ML GIN
15ML COINTREAU LIQUEUR
250ML CHILLED PEACH JUICE
1 TABLESPOON FRESH LIME JUICE
2 DROPS ANGOSTURA BITTERS
2ML GROUND CINNAMON POWDER
250ML CHAMPAGNE / SPARKLING WINE
ICE CUBES
MINT LEAVES
2 SLICES OF FRESH PEACH FOR GARNISH
Step 1:
Fill two-thirds of a large cocktail shaker with ice cubes.
Add gin, cointrea, bitters, peach juice, cinnamon powder, lime juice and shake well.
Step 2:
Fill two thirds of a glass with ice cubes.
Pour the shaken cocktail over the ice and top up with the champagne / sparkling wine.
Garnish with fresh mint, and once slice of peach in each cocktail.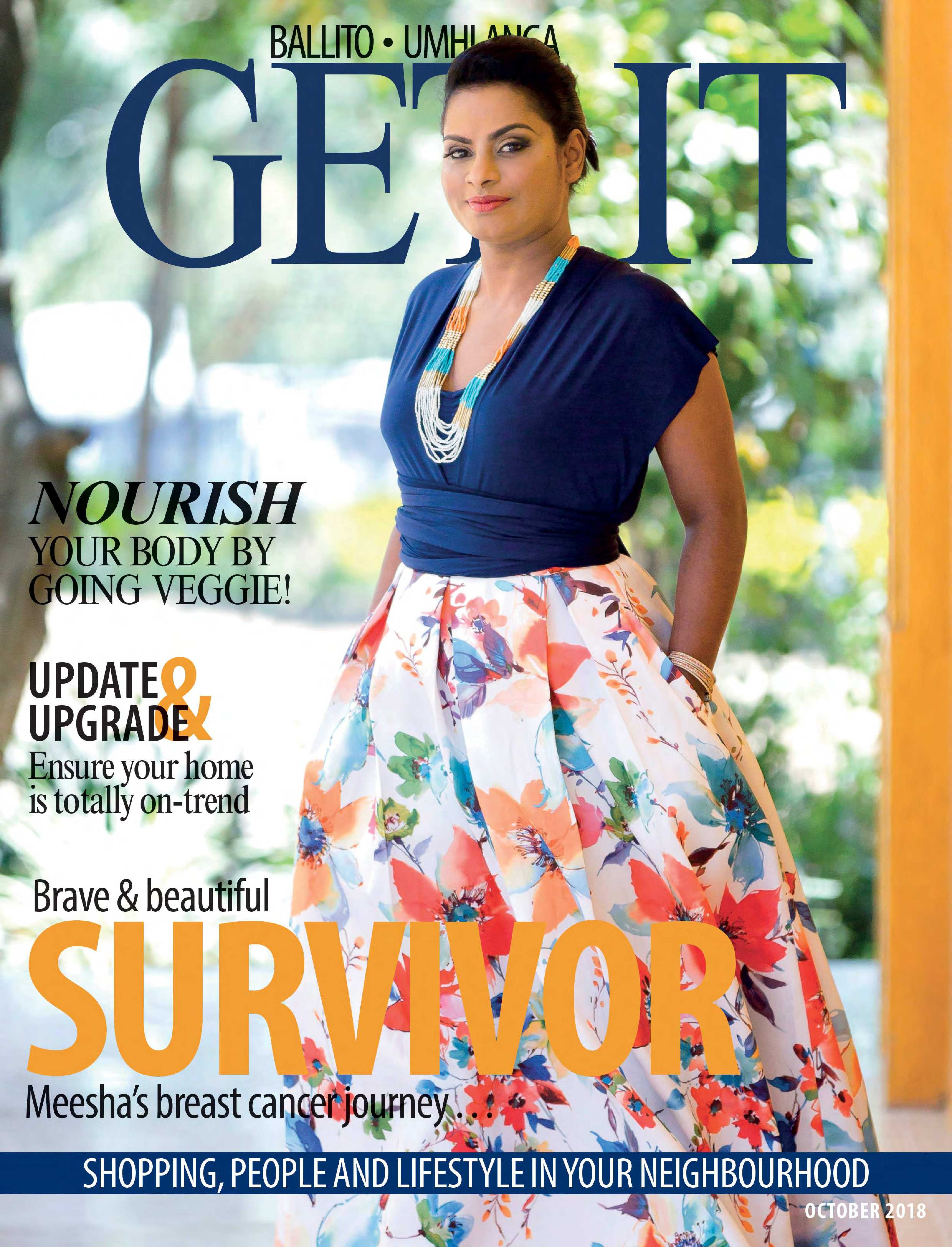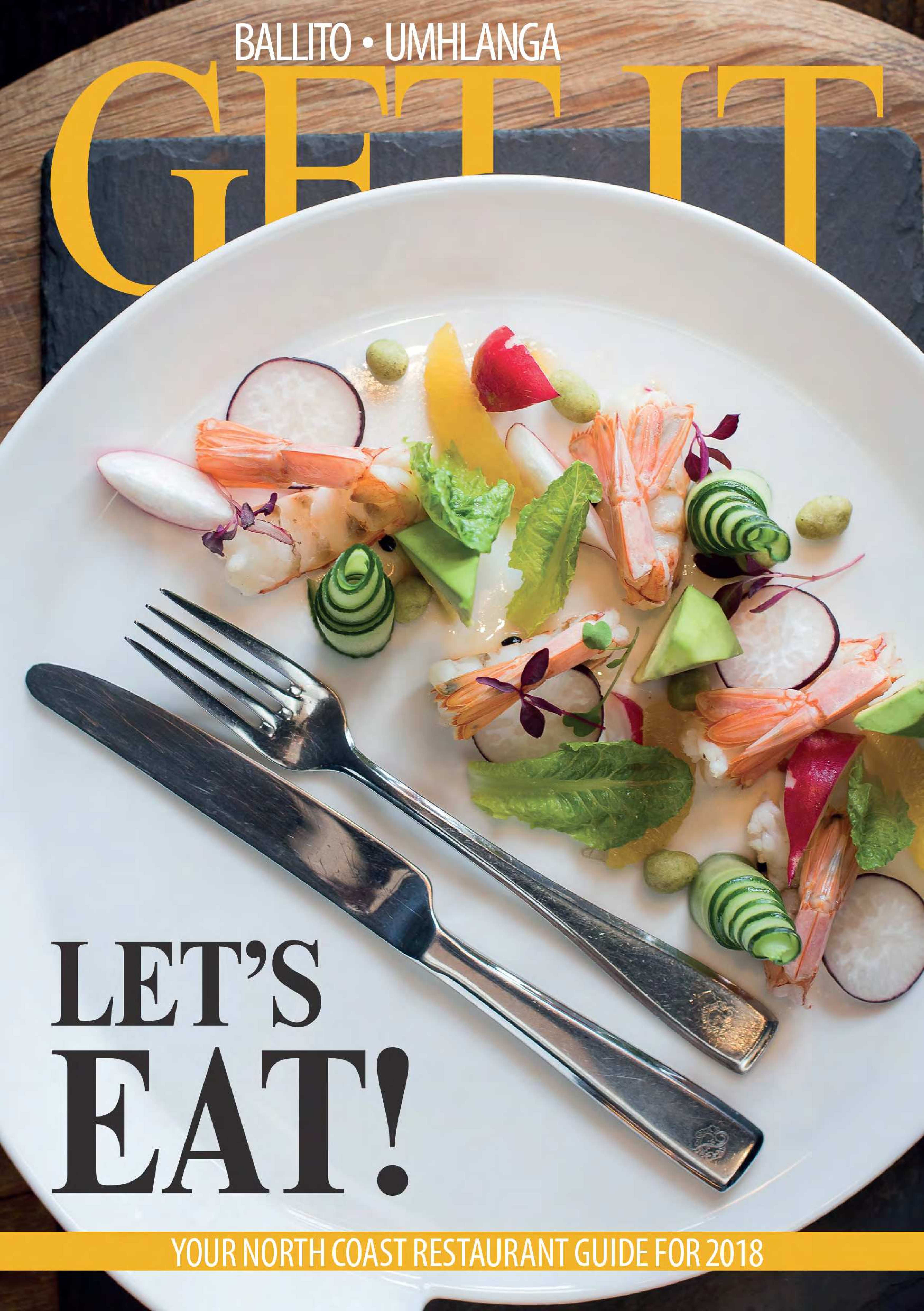 is a national brand of premium free magazines available in centres across the country.
to see other Get It magazines in the network.