Spice it up!
One of the quickest ways to improve the taste of boring 'diet food' is to spice it up! But, according to Larissa, spices are about more than just making bland foods more palatable.  "Certain spicy foods have a variety of health benefits. For example, the capsaicin in chilli, pepper and ginger can boost your metabolism and serotonin levels, making you happier and less anxious. Cumin aids digestion by increasing the activity of digestive proteins and may also reduce symptoms of irritable bowel syndrome and Coriander controls blood pressure, sugar and cholesterol levels, and also helps improve skin and hair. Here are a few other tips on how to improve your chances of staying on track with your healthy eating plan this year:
1
Be prepared. It takes a little bit of effort to get things organised for your eating regime, but it pays off. Make sure you get what you require in advance and prepare food before you start craving the wrong foods.
2
Take your healthy meals from bland to bold with spices. Marinade deboned chicken breasts for a few hours (or in fridge overnight) for maximum flavour. Be bold and use a blend of Mexican rub (recipe online) spices with lime or lemon juice or sprinkle delicious Chilli Dukkah spice on your food before roasting.
3
No one enjoys a dry, boring salad! Make a zingy Lemongrass and ginger salad dressing (recipe online) and keep refrigerated and ready to use on salads. This can also be used as a sauce over fish or chicken.
4
Sprinkle a generous amount of Cinnamon on your apple and yoghurt for breakfast, or whizz it all together for a quick smoothie, adding a knob of fresh ginger and a few chai seeds for a breakfast on the go.
5
Make an alcohol-free, refreshing punch to sip after a long day, with herbal tea and an infusion of fresh ginger. Sweeten with honey or stevia and refrigerate. Serve in a stunning glass on crushed ice with a lemon slice and fresh mint to decorate.
6
Dish up your own food and be aware of portion control. Place your food on the plate with style and care. Add chopped herbs (coriander or Italian parsley) for visual appeal. Then look, smell and chew slowly and enjoy each mouthful. Wait ten minutes before going back for seconds, you will find you feel fuller and more satisfied.
7
When eating out at a restaurant be specific about what you can and cannot eat.  Only have your food grilled and request steamed veggies. No chips! Order sparkling water with lemon immediately before the wine list arrives so you can avoid the temptation of drinking alcohol
8
Plan in advance and budget a reward for yourself for sticking to your programme with a treat that pampers your body.
9
If you fall off the rails and have a bad day dust yourself off and start again. Success rarely comes at the first attempt. Take a brisk walk, drink plenty of water and get back on track. Every day is a new day to begin again.
10
Remember you are not alone! Many people are making the same hard but good health choices!
DUKKAH SPICE
Technically a condiment in its traditional form, a blend of dukkah with olive oil in a 1 to1 ratio makes a great dip to enjoy with toasted pita bread or drizzled over your favourite foods as a Salsa Verde. Used as a Dry Spice blend it has so much versatility.
CHILLI  DUKKA SPICE
62,5ml ground coriander
62,5ml ground cumin
30ml ground ginger
2 heaped tsp chilli flakes (optional)
Coarsely ground salt
125ml roughly chopped, lightly toasted nuts (almonds, walnuts or pistachio)
125ml Sesame seeds
60ml stevia
Combine ingredients in a food processor and pulse until a coarse spice mix forms. Use immediately or transfer to an airtight container and store in the refrigerator for up to two weeks.
Mexican  Spice Rub
10mls each black peppercorns, coriander seeds, garlic salt(or fresh), turmeric powder, all spice, ground cloves, cinnamon,
5mls of ground ginger, nutmeg,
25mls dried chilli flakes,
Dry roast all these ingredients in frying pan then place all in blender and grind. Rub spice over meat and marinate
Lemon grass & ginger dressing
Infuse 2 stalks of lemongrass, roughly chopped, 25mls crushed fresh ginger & 2 tsp stevia with 125mls water for 15 mins to form a syrup.  Strain and cool.  Add 30 mls white wine vinegar, 30 mls olive oil 10 mls sesame oil, 10mls soy sauce.  Bottle and store in fridge.
Get in touch:
084 566 1383/ 032 815 27
ballito@thefirm.co.za
Unit B211, Simbithi Office Park, Shakas Rock Road, Shakas Rock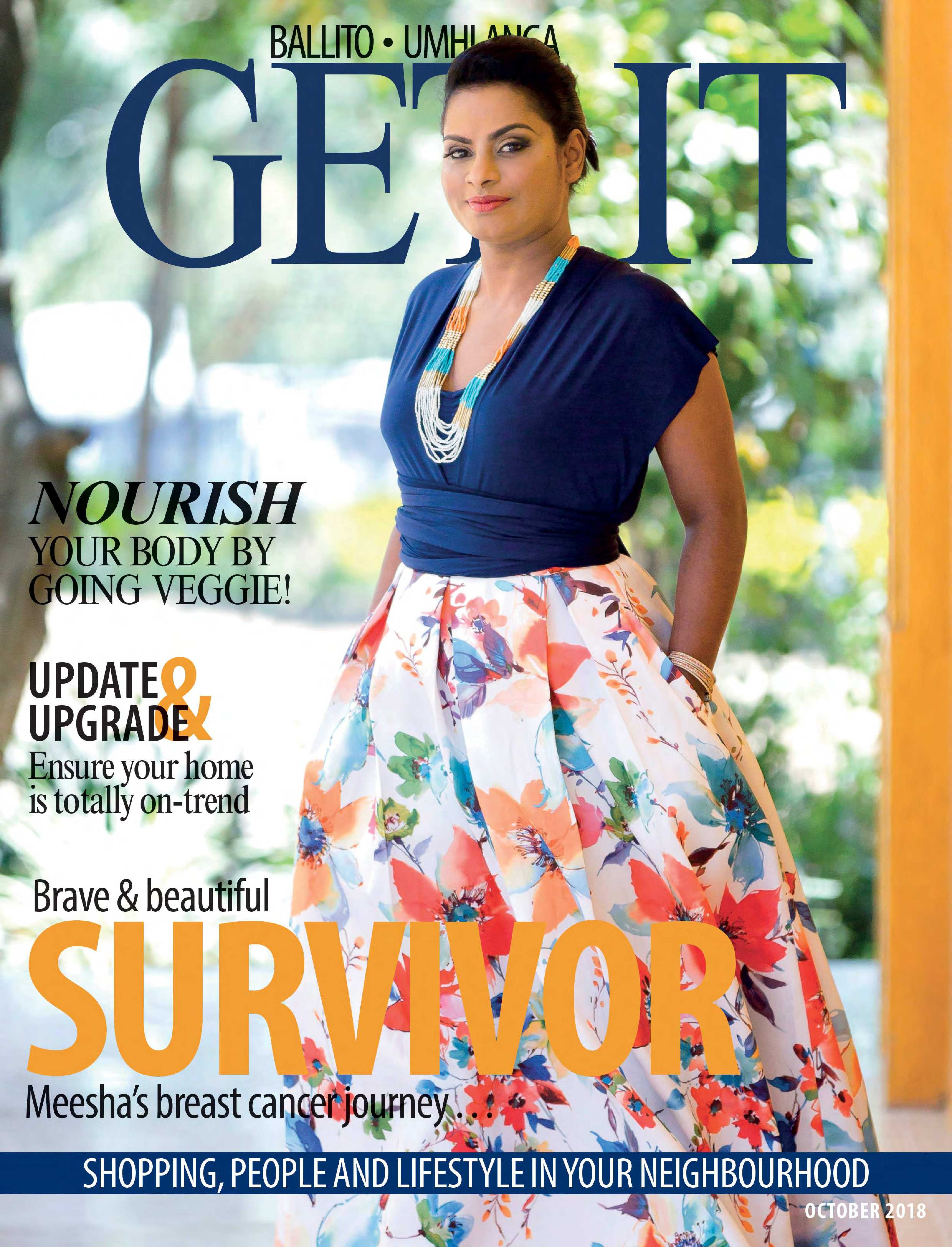 is a national brand of premium free magazines available in centres across the country.
to see other Get It magazines in the network.