Easter feasting
GET PLANNING
Umhlanga event planner Darryl Monks has been in the events industry for over 10 years. Inspired by international interior design trends, Darryl believes you should choose one or two key pieces and then base the rest of your décor around that. "Two styles that are very popular at the moment are bold colour choices and all-things-Moroccan. Both of these perfectly compliment the indoor-outdoor homes that epitomize our North Coast lifestyle."
Keeping the over-the-top 'Eastery' décor to a minimum, Darryl says he used the white ceramic bunnies as his starting point. "I hired the bunnies from Hire Standards in Ballito, and then found most of the other items in local stores. People often think it's pricey, or don't want to go to the effort of hiring décor, but they don't realise that hiring a few small pieces will go a long way to finishing off your table, and it is much more affordable than people expect. It also allows you the opportunity to switch up your entertaining style."
Darryl added beautiful custom-designed cookies, perched on table number stands, which added to the fun, Easter feel of the table while still keeping it elegant and classy.
Darryl's top tip:
If possible, serve your food from another station so you won't have to clear the table of empty platters after your meal.
MEET THE CHEF
Simbithi Country Club executive chef Daryn Bowers is passionate about creating beautiful food. Having taken over the reins at Simbithi nearly three years ago, Daryn's charisma and charm have endeared him not only to his efficient staff of chefs and waitrons, but also to residents of Simbithi Eco-Estates and guests who frequent the well-known Fig Tree Restaurant.
One simply has to spend a few charged moments in the kitchen when Daryn is behind the pots to notice the enthusiasm, passion and utmost respect he exudes for his craft. Chef Daryn describes cooking as something that took over his heart and soul and his passion has seen him working in some of the country's most respected kitchen. He has also received a number of awards and is renowned for his impeccable flair for plating.
When he is not in the kitchen, Daryn is an avid surfer and enjoys brewing craft beer. He and his wife Candy (a professional baker) have two daughters and are happily settled in Ballito.
RECIPES
Slow Roasted Lamb Ribs basted with Chimichurri
Serves 15

Ingredients
4 kg whole rack lamb ribs
¼ cup chimichurri
1kg vine tomatoes
1kg baby beetroot
500g baby onions
Method
For the Chimichurri
½ tsp crushed black peppercorns

½ tsp dried chilli flakes (optional)

2 tsp smoked paprika

2 stalks rosemary

¼ cup fresh coriander

¼ cup Italian parsley

4 Tbsp soy sauce

2 Tbsp lemon juice

1 red pepper (roasted, skinned and de-seeded)

1 onion (diced)

4 cloves garlic

½ cup olive oil
Combine all ingredients, except the olive oil, in a food processor (or blender, if you do not have one). Blend on low until all ingredients have incorporated well. While the processor is running, slowly drizzle the olive oil into the machine. It will emulsify and form a wet paste. This chimichurri is superb on all proteins and vegetables and will keep very well in the fridge. Keep the remaining chimichurri in a jar in the fridge. It will become your go-to flavour, as it has mine!
For the Lamb
Pre-heat the oven to 120⁰C. Place the lamb in a baking dish. Baste with half of the Chimichurri, cover with foil and roast for 2.5 hours. Prepare the vegetables: peel and halve the baby beetroot and baby onions. Wash the vine tomatoes and set aside. After the 2.5 hours, take the lamb out of the oven and remove the foil. Increase the temperature to 190⁰C and scatter the vegetables around the lamb in the baking dish. Return to the oven and bake for a further 30 minutes. Serve with green vegetables, baby carrots and cous cous.
Baby Carrots with Honey & Balsamic Reduction and Cashews
Serves 15
Ingredients
3kg assorted baby carrots,

'Kaleidoscope Mix': includes white satin, merida and purple dragon carrot varieties

50g butter

2 Tbsp honey

1 cup balsamic vinegar

2 Tbsp brown sugar

1 star aniseed

200g cashews, roasted
Method
Bring a pot of water to the boil. Wash and peel the baby carrots, set aside.
In a sauce pan, combine the balsamic vinegar, honey, brown sugar and aniseed. Bring to the boil and reduce the mixture by half; it should be sticky and have the consistency of a syrup. Once this is achieved, set aside.
Blanch the carrots by submerging in the boiling water for 3 minutes. Strain and dunk in ice water to stop the cooking process. Strain and dry, then place in a baking dish and top with the butter. Cook in the oven with the lamb for the last 15 minutes to give the carrots a slight colour. Place on your serving dish and drizzle with the balsamic reduction. Top with the cashews and serve.
Asparagus and Broccoli Florets, topped with Fresh Tomatoes, Feta and Lemon Oil
Serves 15
Ingredients
1kg fresh asparagus

2kg broccoli florets

1.5kg assorted cherry tomatoes (

Coyote, Black plum, red cherry,rosa)

500g Danish feta

4 Tbsp lemon oil
For the Lemon oil
½ cup olive oil

1 lemon, zest only

¼ tsp turmeric

½ tsp coarse salt

½ tsp crushed black peppercorns
Gently heat the olive oil: it must just be warm and not too hot. (If you heat up the oil too much, it will make the final product extremely bitter and unpleasant.) Once the oil is warm, remove from the heat and add the lemon zest and turmeric powder. Leave to infuse for 30 minutes and pass through a sieve, then set aside.
For the Asparagus and Broccoli
Follow the same process as you did when blanching the carrots. Remove and drain from the ice water and set aside. Just before service, re-heat in boiling water and place on a serving dish. Season with salt and pepper and top with the assorted tomatoes and feta. Drizzle with lemon oil and serve. I love the look of fresh, edible flowers to contrast the colours.
Cous Cous Tabbouleh
Serves 15
Ingredients
3 cups cous cous

3 Tbsp olive oil

2 cups boiling water

½ cup Italian parsley, finely chopped

¼ cup mint, finely chopped

½ cup mushrooms, finely diced

½ cup carrots, finely diced

½ cup baby marrow, finely diced

¼ cup cherry tomatoes, finely diced

¼ cup onion, finely diced

2 garlic cloves, finely diced

¼ cup Kalamata olives

1 tsp turmeric

2 tsp garam masala

½ tsp salt

1 tsp crushed black peppercorns

1 lemon, zest and juice

¼ cup micro herbs
Method
In a large pot, heat up the oil and add the onion, garlic, mushrooms, carrots and baby marrow. Fry until tender. Stir in the cous cous, then add the parsley, mint, salt, pepper, turmeric, garam masala, lemon zest and juice. Cook for a further 2 minutes, then add the boiling water and remove from the heat. Allow to sit for 10 minutes while the cous cous absorbs the water. With a fork, gently stir the cous cous mixture to loosen it. Finally, stir in the diced tomatoes and olives. Transfer to a serving dish, top with micro herbs, and serve. This side dish works well when served hot or cold and can therefore be prepared well in advance if being served cold.
Chocolate Pavlova with fresh berries
Serves 15
Meringue Ingredients
4 egg whites

250g caster sugar

1tsp white wine vinegar

1 tsp corn flour

1 vanilla pod (seeds removed)
Method
Pre-heat the oven to 130⁰C. Mark out the circumference of a dinner plate, on a sheet of wax paper, and set aside. Whisk the egg whites with an electric hand mixer until stiff peaks are formed. Continue whisking, adding 1 Tbsp of caster sugar at a time, until the meringue is glossy. Whisk in the vinegar, corn flour and vanilla pod seeds. Spread the meringue thickly on the wax paper in the marked off circumference, making sure the edges are slightly higher than the middle. Bake in the oven for 1 hour and then switch off the oven. Allow to cool completely in the oven before removing it.
Chocolate Mousse Ingredients
4 egg yolks

¼ cup caster sugar

1 cup cream

500g dark chocolate

1 ½ cups cream, whipped and set aside
Method
Beat the egg yolks and caster sugar until the ribbon stage (pale and fluffy). Gently heat 1 cup of cream in a heavy-based sauce pan. Once hot, remove from the heat and stir through the chocolate until melted and smooth. Leave to cool and fold into the egg yolk mixture. Finally fold in the whipped cream and spoon on top of the meringue. Crown with assorted fresh berries and mint.

Get in touch:
Darryl Monks: darrylmonks@gmail.com / 072 056 0071
Decor: Hire Standards – 082 258 5287 / info@hirestandards.co.za
Beach Sand – 032 586 1445 / www.beachsand.co.za
Ginger and Joy – 0724557065
Fig Tree Restaurant, Simbithi – 032 946 5403

Text: Leah Shone | Photographs: Chris Allan / Chris Allan Photo / www.chrisallanphoto.co.za | Stylist: Ty Gormley: I'm Styling / www.imstyling.co.za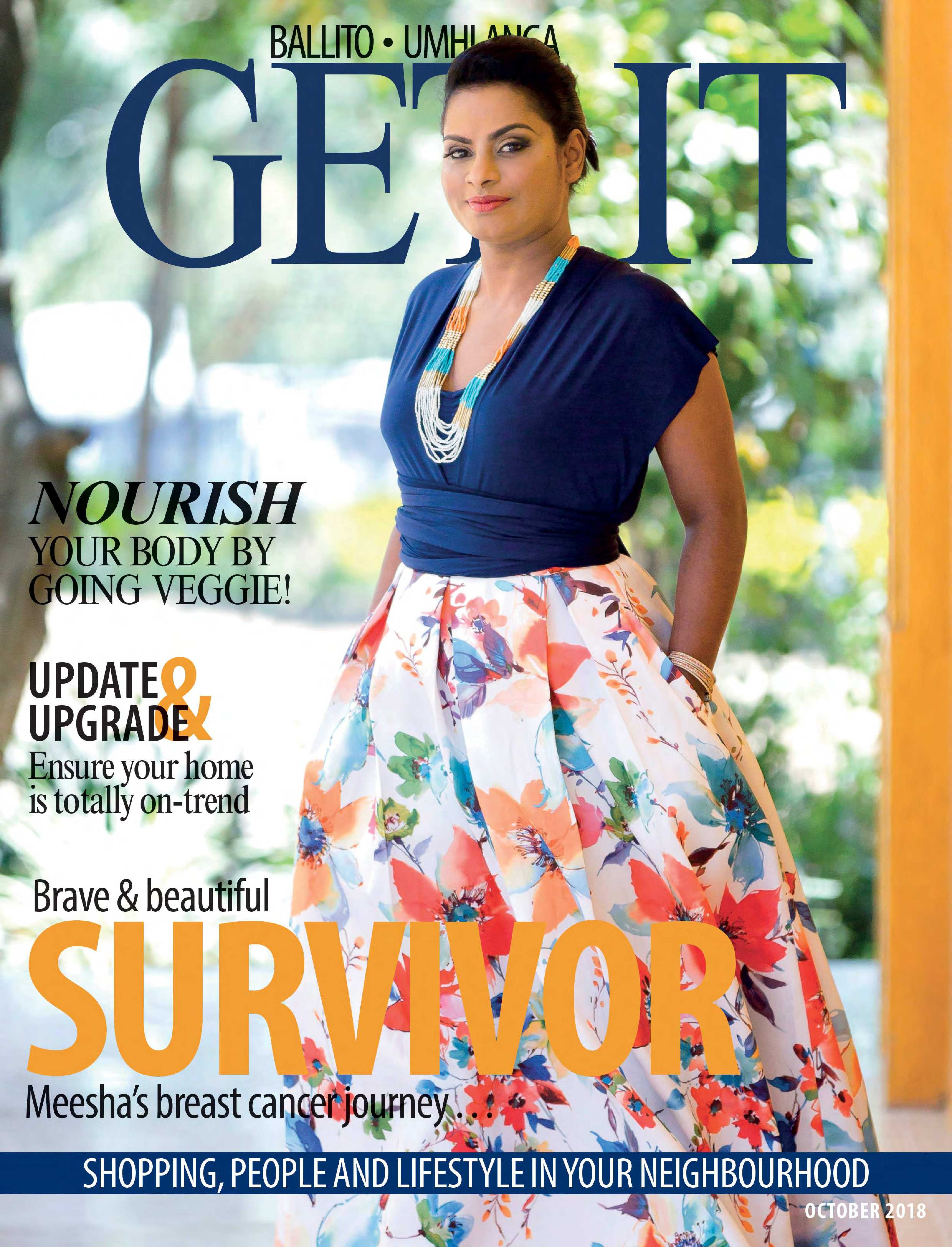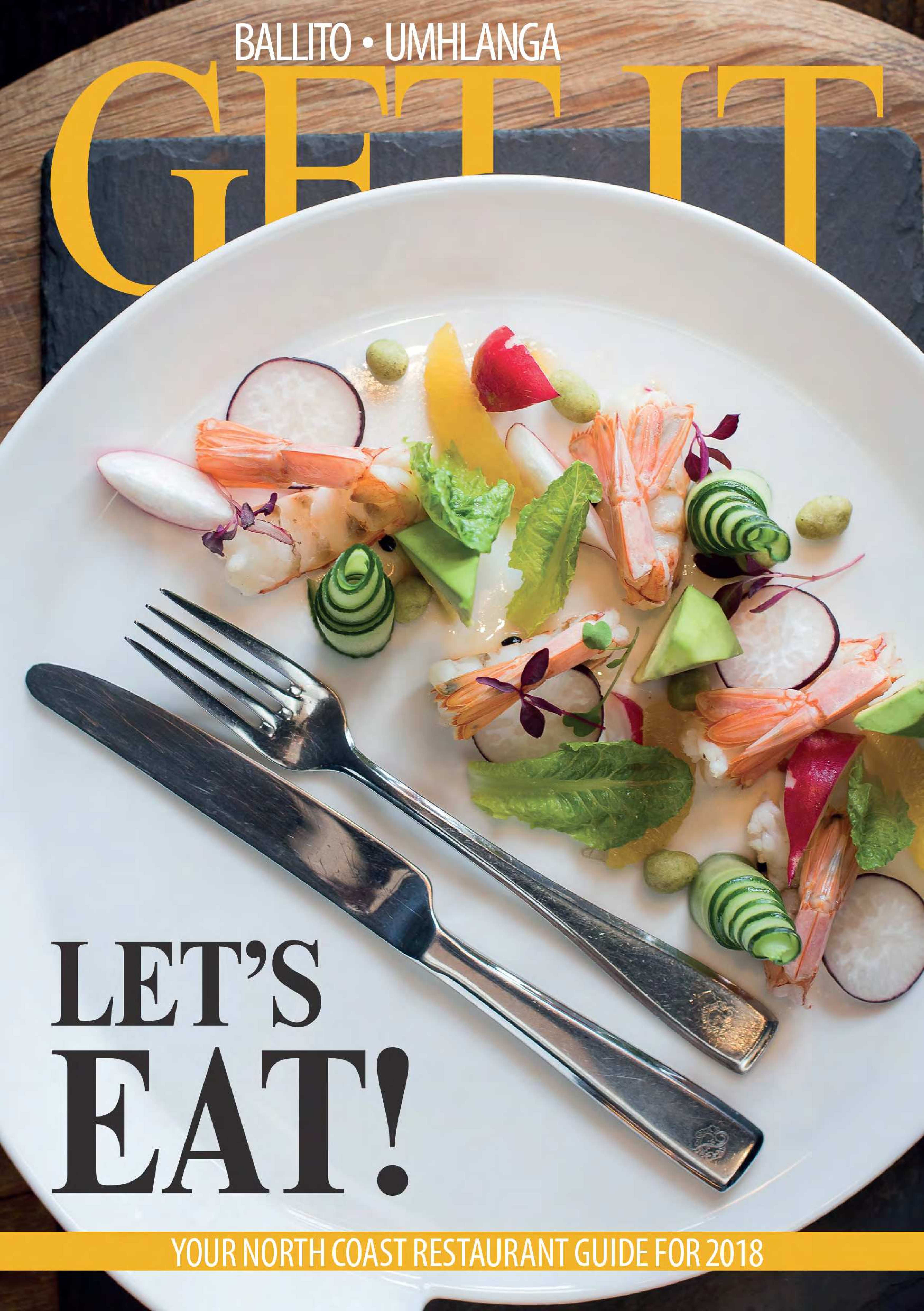 is a national brand of premium free magazines available in centres across the country.
to see other Get It magazines in the network.