Shisa with a twist
It's not every day that a practicing vegetarian opens a traditionally 'meat-focussed' restaurant. But, determined to do things a little differently, Sorisha has managed to bring her own special flare to 4320 Shisa Nyama.
In case you weren't sure, the term 'shisa nyama' is typically used in South African townships to describe a braai where people come together to cook their meat over an open fire.
Sorisha is the owner of a string of successful businesses, including two aesthetic clinics, an import and export company and various anti-aging products that are exclusively distributed by her company, SSBO, in South Africa and Africa and wife to well-known billionaire businessman Vivian Reddy. She says she is very excited about her newest venture.
THE CONCEPT:
Sorisha says she came up with the concept while filming a reality show, called Divas of Jozi a few years ago. "We had the opportunity to visit and sample two 'shisa nyamas', one in Johannesburg and the other in Cape Town. As a vegetarian I found it difficult to eat off the menu, so I promised myself that if I ever opened a 'shisa nyama' I would make sure there were vegetarian options on the menu. I don't think I realised it would actually happen," laughs the mom of two.
THE MENU:
The menu is exclusively 'shisa nyama', but with a twist. Sorisha says while it has all the staples of what you would normally find in a restaurant like this, her restaurant has been expanded and re-energised by her chef, Cyprian Khumalo, who has worked in New York, New Orleans and on various high-end cruise liners. The diverse a-la-carte menu offers everything from hearty samp and beans to steak burgers, T-bone steaks and plenty of good, old South African chakalaka. The restaurant's signature side dish is called Dirty Pap. "It is my personal favourite dish on the menu. I don't normally eat pap, but when we created the dish and I did the first taste test, it was love at first bite. It is very flavoursome and served on a bed of spinach – truly a delight for my vegetarian palette!"
THE LOOK & FEEL:
The restaurant lends itself to the dress up 'red sole days' of the past, as Sorisha calls it, with beautiful chandeliers and mirrors positioned around the interior. Simultaneously though, it also has a slightly casual feel, with beaded neck pieces draped on the wall, African baskets popping up and bags of maize meal stacked up on the mantle. The wooden tables and variety of padded, Perspex and aluminium chairs also make it less formal. The velvet red padded doors with 'bling' buttons is one of Sorisha's favourite elements in the interior. The inter-leading comfortable-yet-chic bar has quirky elements, bursts of colour, canvassed memes on the wall and black deep buttoned bar stools. The bar creates serves craft beers and an array of cocktails, three of which are signature cocktails for 4320. The "Hot & Humid" and "Mang Berry" have become the favourites amongst guests.
Get in touch:
www.4320.co.za | info@4320.co.za | 031 5617777

Text: Monique De Villiers-Delport | Photographs: Denver Govender / Snapout Photography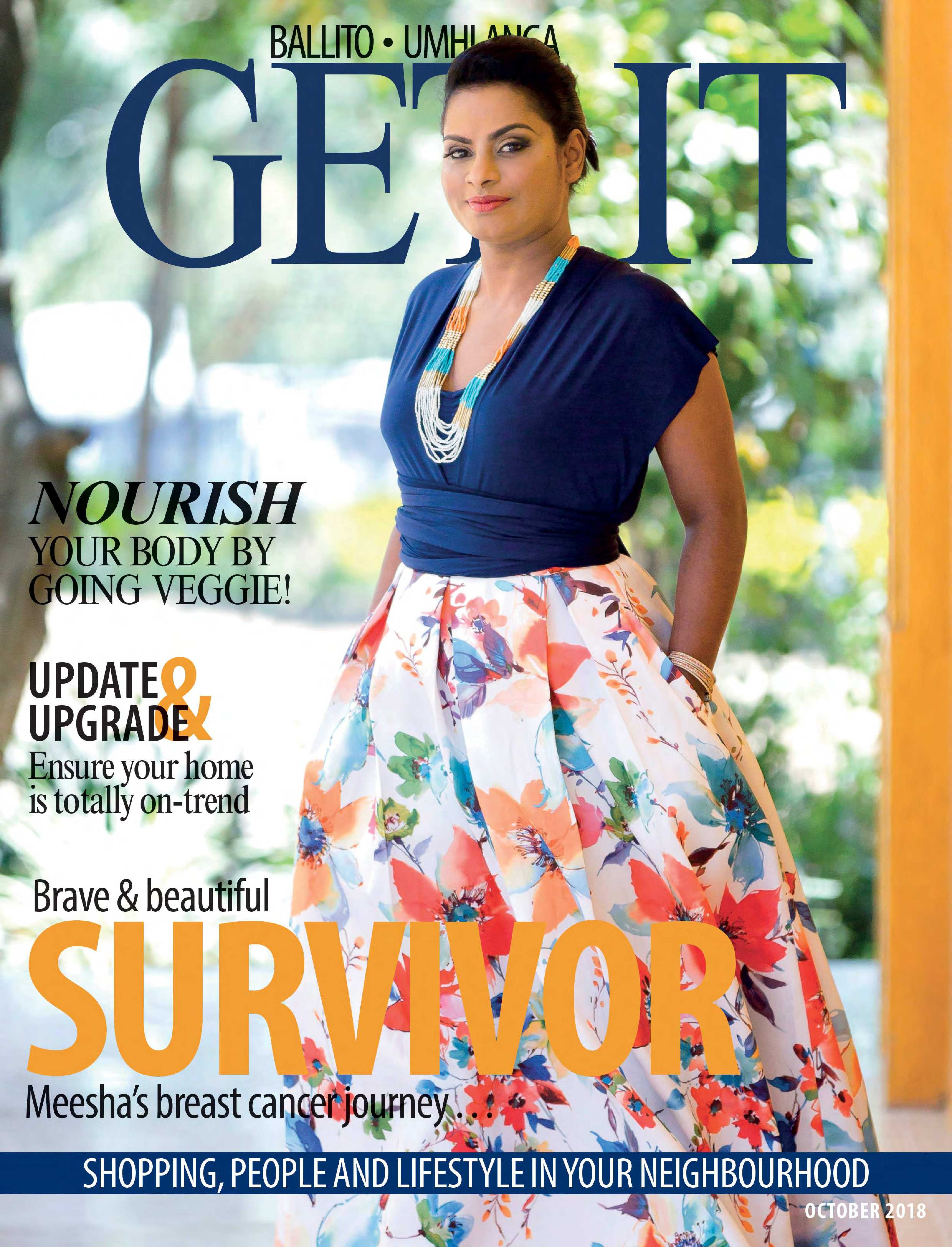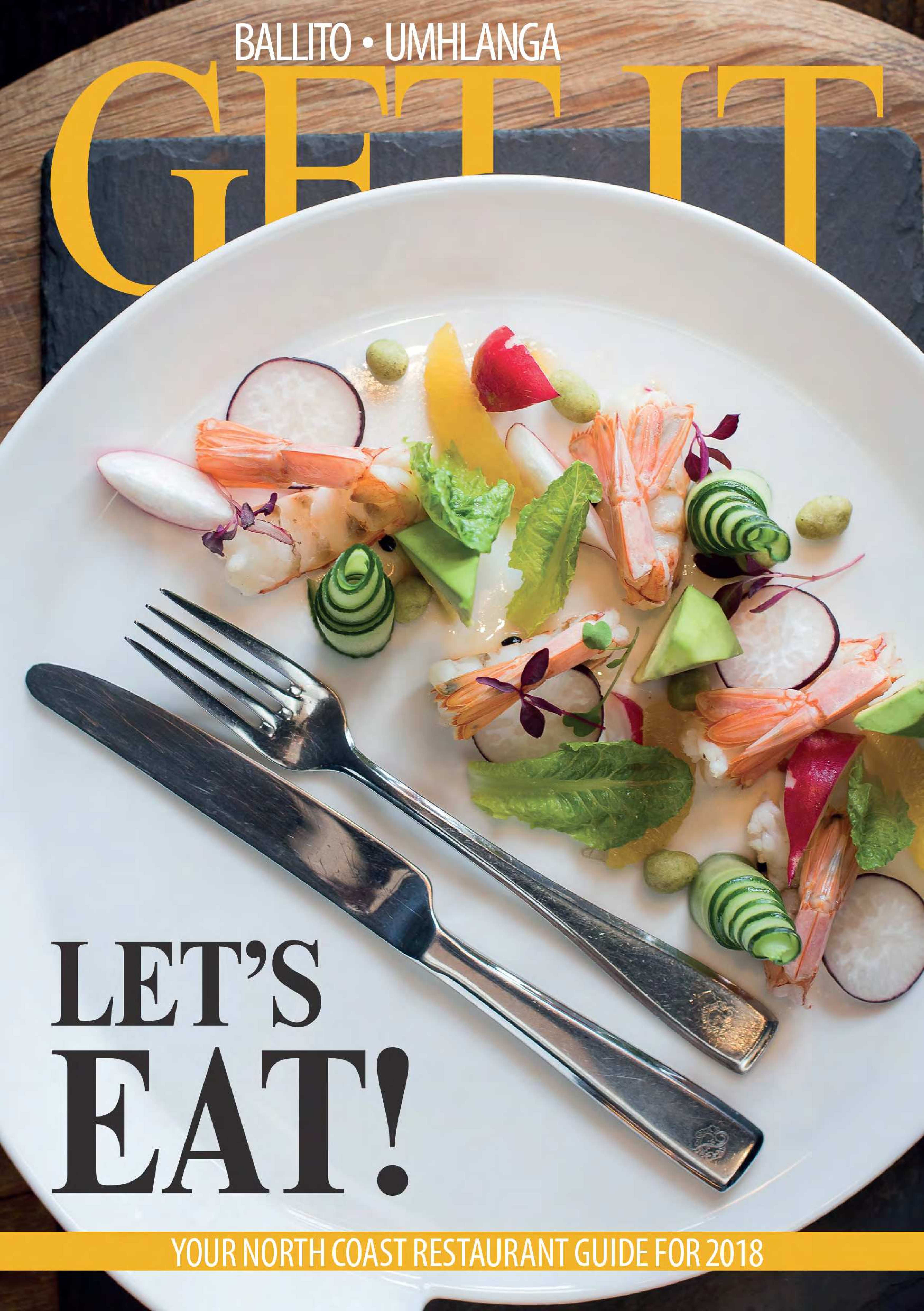 is a national brand of premium free magazines available in centres across the country.
to see other Get It magazines in the network.