Power moms
The urban dictionary defines a 'power mom' as a woman who is able to seamlessly raise children, keep a household, participate in their activities, maintain a successful romantic relationship and have a hobby – and sometimes do all of these things at the same time! We spoke to three North Coast 'power moms' about their daily juggle.
Power Mom: Laurette Batstone
Former Mrs South Africa, Ballito-based Wordsmiths Marketing manager Laurette, was recently named Caxton digital sales strategist of the year and qualified as South Africa's first Strategic SOSTAC Marketing Planner. Laurette (34) has two children, Donné (12) and Nathann (10), who both attend Umhlali Preparatory School, and her husband Gary works away from home.
1. Please share a bit about your background.
I grew up on a farm in Barberton where we spent our days eating litchis and mangoes and riding horses. I started working after completing a diploma and then went on to further my studies in marketing, which is where my passion was ignited. I met my husband when I was 17 (he was 26). Having become well-connected during my reign as Mrs SA, I founded a small marketing agency, which grew to nine staff in five years.
2. Tell us about the Mrs SA experience.
When I was 25, married with two kids and owned a successful business, I decided it was time to try something different and challenge myself. So, I entered Mrs SA. I almost pulled out when I made it into the finals though, and the director phoned and convinced me to stay. I loved the experience. It took up three years of my life (a year being judged as a finalist, a year of reign and a year of mentoring). 
3. What would you say are the secrets to being a successful, career-driven mother?
Keeping your feet on the ground and equally balancing your passion for your children, marriage, yourself, your home and work. Focussing too much in one area, even for a short while, can leave you feeling 'empty' or like a failure.
4. What are the most important lessons you hope to impart to your children?
Children learn with their eyes. I am a person of action, immovable in my determination and confident in my abilities. I want that for my children.
Power mom: Lee-Anne Holding
Having recently put all her focus into jewellery range, AnnaBella, Lee-Anne is  mom to Rhys (4), who was diagnosed with Down Syndrome shortly after he was born.
1. Please share a bit about your background.
We moved between Johannesburg and Durban a lot, but I have been a full-time Durbanite since I was in grade six. After school I did a diploma in public relations and accounting. I met my husband Dave at Musgrave Shopping Centre where I was working as PR Manager in 1998. It took three years before we started dating. We had a small, intimate wedding with family and friends in 2003.
2. Tell us how you went from public relations to jewellery design.
After working at the Pavilion Shopping Centre management offices for several years, I moved into centre management and then became PR manager for Musgrave Centre. When I finally landed my 'dream job' as an account manager at Hirt & Carter I suffered a major stroke. I was 35 and I had to fight for my life. My rehabilitation included working on my hand-eye co-ordination with plastic beading kids, and this is how AnnaBella was born. We create locally-designed-and-manufactured fashion jewellery using suede, silver, rose-gold, semi-precious stones and fresh water pearls. I work with brides, locally and internationally, and we do commission, wholesale orders for retail stores.
3. Tell us a bit about your pregnancy and your little boy, Rhys.
The happiest day of our lives was when we found out we were pregnant. Rhys was born at 32 weeks via emergency caesarian. We did not find out until that he had Down Syndrome until he was 7 weeks old. I was devastated, of course. But, he's just turned four years old and, you know what, everything else is so trivial in comparison to this beautiful, angelic, happy, loving child. He is the light of our lives and, while we will always have hurdles to overcome, we believe that what you put into life is what you get out. We just have to put in a little more than most.
4. How do you balance work and motherhood?
I put AnnaBella on the back burner for a few years after Rhys was born, but now, with him fully integrated into a loving school (Bloom), I can pick up where I left off. I am lucky to be able to work from home and can juggle motherhood and work seamlessly. It does help that I am a 'night owl' and that I have the most amazing parents who love having Rhys, allowing me some time to rest.
Power mom: Mandie Martin
Having worked at Vogue, Cosmopolitan and Marie Claire in the UK, mother of three Mandie recently opened the second branch of her contemporary women's fashion store, Trinity at The Ballito Junction Regional Mall. Her children are Matteo (21) and Davide (19), both studying at Stellenbosch University and Pascale (13), who boards at St Mary's DSG in Kloof.
1. Please share a bit about your background.
I grew up in Queensburgh and studied fashion design at DUT. After my studies I decided to travel, starting in the UK. The universe had other plans though and I ended up doing internships at Vogue, Cosmopolitan and Marie Claire, after which I landed a 'dream job' as bookings editor at Marie Claire. It was great, I travelled and worked with celebrities like Kate Moss, Linda Evangelista and Patrick Demarchelier. While I was in the UK I got married and had my first child. When my husband was offered an opportunity back in SA, we could not turn it down.
2. How did your life change when you moved back to SA?
I worked in advertising for a short while, and then started a soft interiors business with a friend. I had my second son, Davide, in 1999. Life threw us a curveball though, when my husband, Tullio, suffered a massive heart attack and passed away in 2001. I was 33 years old with two small children so I did what I knew best – I picked myself up and worked hard to raise two beautiful boys. I remarried to Joel in 2004 and had my precious daughter Pascale. I sold my share in the interior business and took time out to find out who I was.
3. Tell us about Trinity. While I was 'finding myself' I realised how difficult it was to find the time to shop for clothing! And, when I did get out, I could never find exactly what I was looking for – comfortable, stylish clothing for women on the run. I started designing clothes for myself and friends and, in 2016 we opened the doors to Trinity, a fashion trove for the stylish, busy woman, in Durban's Windermere Centre. Last year we opened our second store in Ballito.
4. How do balance work and motherhood?
I believe this is the hardest thing any woman does. We want to nurture and be with our children, but most of us need to work. I am lucky enough to do what I love, and encourage my children to find their passion and believe that they can be and do anything. I love my life, I love what I do and I hope I can pay it forward in all I do.
Text: Leah Shone | Feature photograph: Chris Allan Photo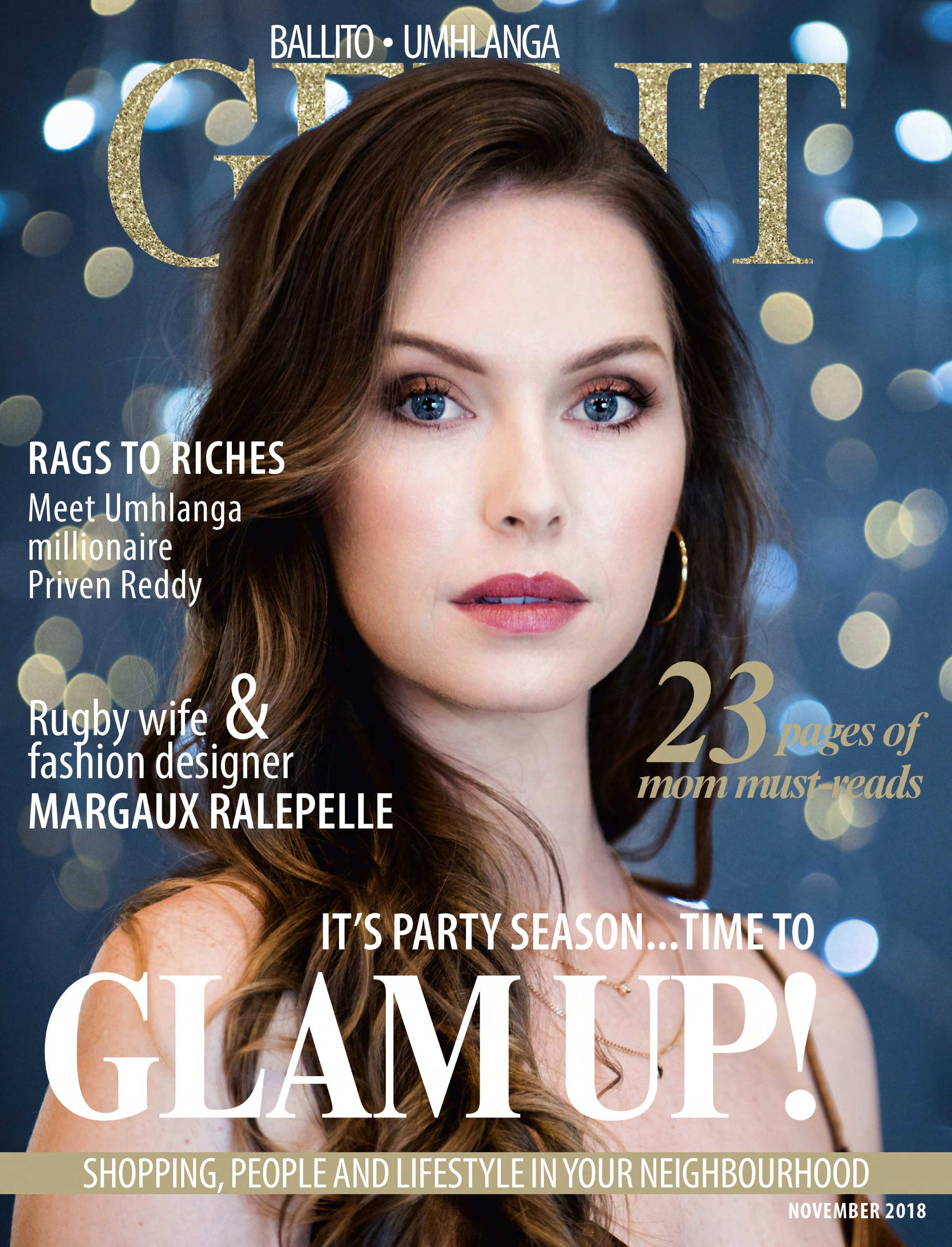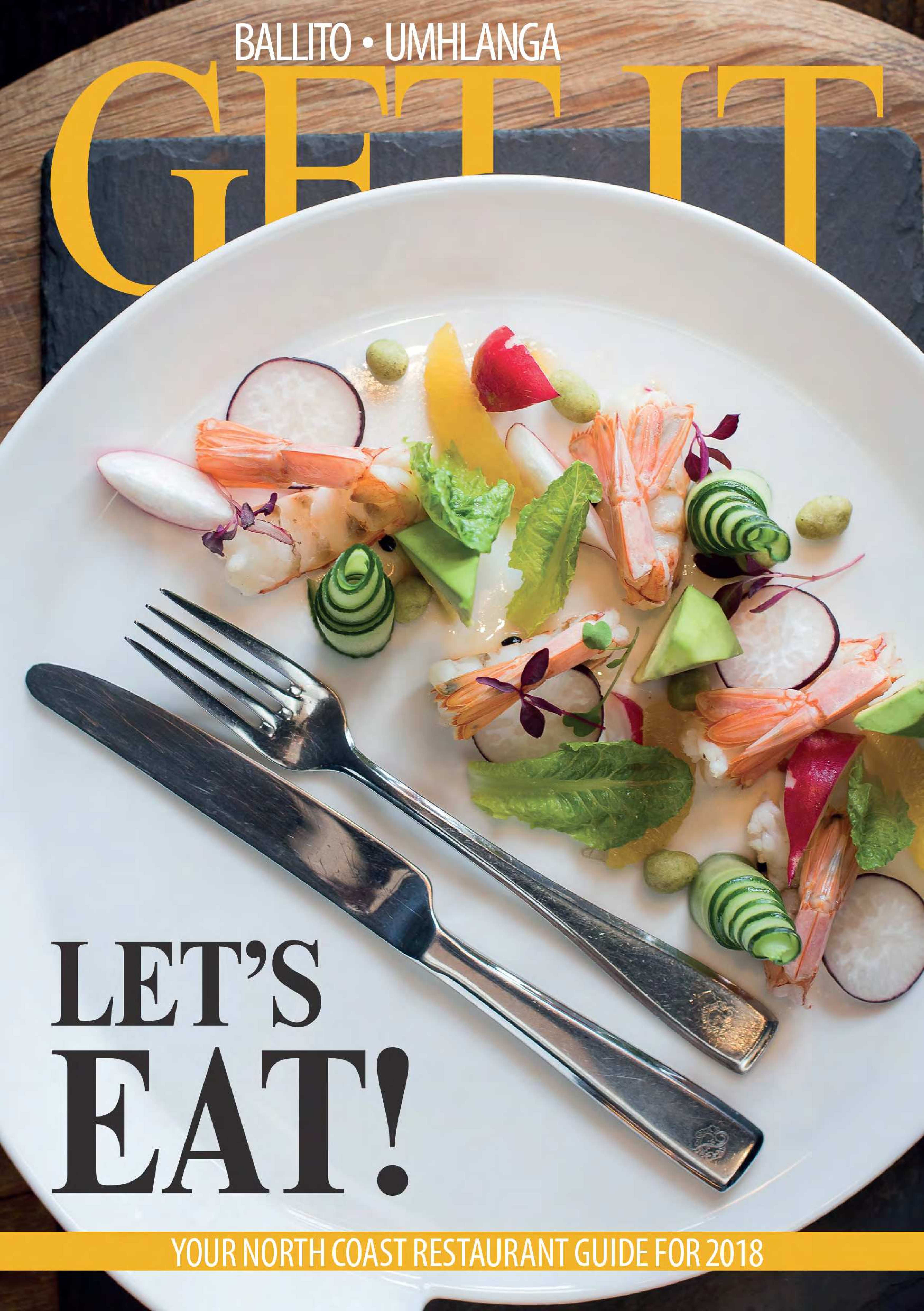 Light summer sparkles
We've got a hamper worth R300 to give to one lucky reader…
Glam up for the festive season!
Hollywood Carbon Laser Treatments are one of the newest and most innovative laser procedures on the market – and they're finally available in KZN! With immediate results and zero downtime, this treatment is perfect prior to a big event or special occasion!
All aboard the Holiday Express!
Why not do something fun and a little adventurous this festive season and enjoy a festive-themed train ride with your family?!
Elegant tots
Summer spoil
Summer's looking more and more colourful. With shades of sunset pink, marine blue, grenadine and more, these Chameleon ICE watches  go from the beach to the cocktail bar … beautifully!
is a national brand of premium free magazines available in centres across the country.
to see other Get It magazines in the network.