Extreme adventures for girls
As they get older women often lose some of their sense of adventure. This can be a result of starting a career or becoming a wife and mother but, whatever the reason, we think it's just rubbish! So, we decided to put on our big-girl panties and stretch ourselves out of our comfort zones this month.

Shark Cage Diving
Where: Ushaka Marine World
About: A a treasure trove of adventure and fun, Ushaka Marine World is a great place to let loose and find your inner kid. Whether it's taking in the wonder of the aquarium or testing your skills at the Chimp & Zee rope adventure park, there are loads of things to choose from. But, because we were determined to step outside of our comfort zones this month, we decided to brave the Shark Cage Dive experience at Sea Animal Encounter Island. The activity allows you to get up close and personal with beautiful sharks, without the added fear of being in the open ocean.
Our experience: So, you know the terrifying Youtube video where people are submerged into the open ocean inside a cage with alarmingly big spaces between the bars, only to come face-to-face with a Great White? This is not that. That said, there is still a level of apprehension as you step into the Perspex 'cage' floating in a large aquarium tank that you know is filled with sharks. The water is dark until you actually put your head under, so the first few minutes of the experience were, in our opinion, scarier than the actual 'dive'. And, because it's the middle of winter, the cold-ish water was a bit nerve-wrecking for us too! Although it's called a dive, you really just pop on a mask and swim down into the tank to see the creatures up close. And you can go up and down as many times as you like. Seeing sharks (and beautiful schools of fish and massive potato bass) up close is humbling and remarkable and not at all as daunting as we thought it would be. This really is a great place for anyone considering an open ocean dive to get a feel for the experience. Details: You have to be a minimum of 12 years old and you must be physically fit and able to swim to do the dive. The shark cage dive is R197 per person and runs from Monday to Sunday between 10am and 2pm and 3pm and 6pm. Other activities at Sea Animal Encounters Island include the snorkel lagoon, ray feed, ocean walker and fish feeding. Contact: 031 328 8097.
Mountain biking
Where: Holla Trails
About: Women's mountain biking is one of the fastest growing sports in the world and more women are hitting the trails than ever before. But the percentage of women riding is still much lower than men. In fact, many women (most of whom have children riding bikes) haven't been on a bicycle themselves since they were kids. Ballito mom and general practitioner, Rosie Carey, is a mountain biker and trail runner who is passionate about getting women outdoors and doing things they never thought they could. She works with Concept Cyclery in Ballito to get women comfortable with mountain biking by taking small groups of women out at Holla Trails in Ballito and tailoring sessions to fit their needs.
Our experience: Five women. All mothers. And most of us had not been on a bicycle since childhood. Needless to say, there were a lot of laughs and more than a few nerves. But wow, was it fun! Once we'd gotten over the hilarity of the idea of all of us on bicycles (as opposed to enjoying a glass of wine at the restaurant while our kids ride), we put on our helmets (and our game faces) and hit the trails! Rosie calmed our nerves and slowly eased us into the ride and, despite the fact that the steep hills, single track sections and bridges were nothing short of terrifying for most of us, we all absolutely loved it. The adrenalin rush was fantastic and the wonderful scenery and freeing feeling of just being a kid on a bike again really is something every adult (male or female) should experience. All of us agree that we will definitely be doing it again. And next time we may even take the kids along!
Details: Sessions with Rosie are free (apart from the Holla Trails Day permit) and no prior experience is necessary. Holla Trails has rental bikes so owning a bike is also not a prerequisite. To find out more, or book a session, contact Rosie on: 032 586 3681.
Zip Lining
Where: Club Venture Ballito
About: If you've never tried zip lining before, then Club Venture is the perfect place to give it a go. Situated 15km inland of Ballito, Club Venture has a range of adventure activities on offer, including ziplining and the world's first parazip experience (which entails ziplining from the top of a mountain with a parachute attached to you). They offer a range of services including team building packages, school day excursions and even have the facilities for scuba diving training.
Our experience: We had a small group of ladies again this time, only three of us…but, we were determined to hold the female name high and brave it! We dragged our husbands and kids along for moral support, and needless to say there was no way we were going to back down and look scared in front of all of them. Safety is paramount with the zipline experience at Club Venture and this did well to set our nerves at ease. After suiting up, we watched a short safety video which outlines exactly what you can expect on the tour. This is invaluable because you feel equipped with knowledge from the beginning. And if you're anything like our group, this is important! The four zip lines on the tour are fantastic. Not too high or too fast, but enough to get your adrenalin pumping and allow you to take in the beautiful scenery from above the trees. There is also minimal walking involved to this point. The last zip, or parazip, requires a little more walking and a little more nerve, as it starts at the top of a mountain. It's quite a bit higher than the other zips, but because you have a parachute attached to you, and you're going from the top of a mountain to the ground, you feel completely safe the entire time. It's a fantastic rush and even elicited a squeal from those of us who had managed not to scream throughout the rest of the tour. This is a great family activity or adventure to tackle with your friends or co-workers and kids from as young as five years old can do it!
Details: The zipline tour is R495 per person for adults and includes a bottle of water during the tour and a snack afterwards – as well as a certificate to say you've completed the tour. Contact: 032 942 8014 / 082 414 2448 / clubventure@mweb.co.za
Laser Tag
Where: Laser Rush Ballito
About: If you've got young children or younger siblings, chances are you've heard of or may even have visited Laser Rush Ballito. A fantastic spot for hosting birthday parties or just a great way to keep the kids busy and having loads of fun for half an hour, the game of laser tag is exciting, fun, high energy and safe. And it's not just for kids! Sessions start with a briefing where you are told how to use the laser guns. Each gun has a sensor and lights up and makes a sound when you've been hit or 'tagged'. After being hit a second time, your gun stops firing for 12 seconds – leaving you open for enemy attack!
Our experience: Using this as an opportunity to do a bit of office team building, we invited a few ladies from different divisions in our office to join our adventure. There were six of us – some mothers nearing their 40's and others young singletons in their mid-20's. All of us though, had an absolute ball. We played three different games, one of which was 'capture the flag', where we divided into two teams and tried to steal the other team's flag. This was by far the most fun. We strategised, ran our 'butts' off and didn't hesitate to take down the opposition, rendering them out of play for a period each time they were hit! We were kids playing cops and robbers and we loved it.
Details: Laser Rush Ballito is located at Sugar Rush Park just outside of Ballito. Each game is 60 minutes and costs R110 per person. There is no dress code, but comfy shoes you can run in is a must! Laser Rush Ballito can also tailor-make a game to suit your group. Contact them on: 083 233 5165 / www.laserrrushballito.co.za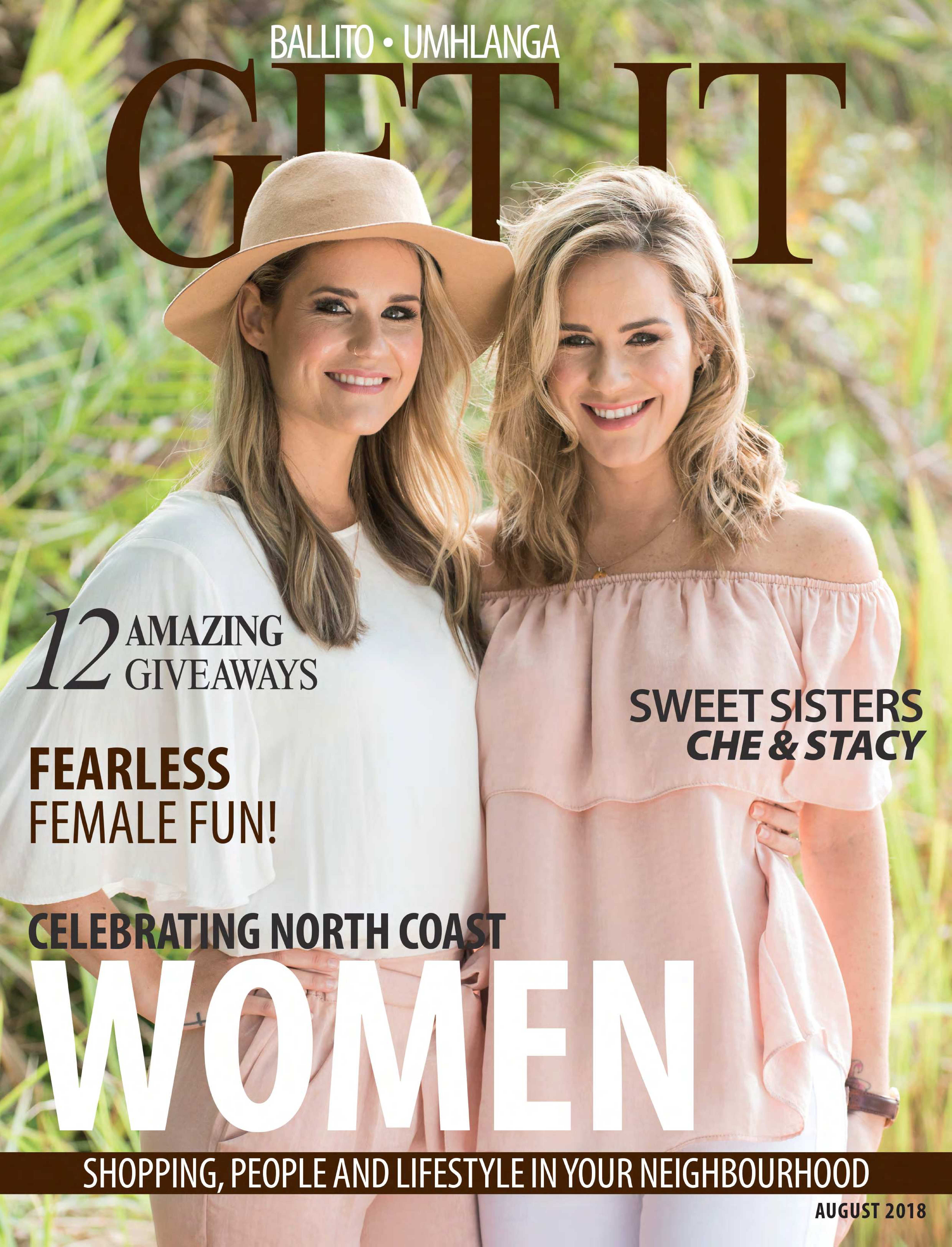 is a national brand of premium free magazines available in centres across the country.
to see other Get It magazines in the network.