Brave & beautiful
Like so many breast cancer journeys, Meesha's started with a small lump under her breast. It was tiny and it was painless and because she had recently recovered from a severe bought of German measles, she didn't think much of it. "I thought it could have developed through the measles," says Meesha who was 37 years old at the time.
A few months later when the lump hadn't gone away, but had started to grow, Meesha mentioned it to a friend and colleague at the Umhlanga Medisport Pharmacy where she has worked for eight years. Her friend insisted she get it checked out.
Although reluctant, and still convinced it was nothing, Meesha says that as a mother to her two daughters (Navania (17) and Nerissa (10), and wife to her husband of 18 years, Donney, she felt she owed it to them to at least get it checked out.
"I went to my general practitioner, Dr Naidoo, who immediately told me I needed to have it properly checked out. I was nervous, but kept telling myself it was nothing. I was worried about not having medical aid, but decided to use my savings to go the private route for the testing."
Meesha booked an appointment with Umhlanga breast surgeon Dr Pramod Reddy who did an ultrasound and mammogram. The ultrasound showed a mass and a darkening in one of her lymph nodes. When the doctor told Meesha she would have to have it biopsied, reality started to sink in.
"My husband and I were devastated and both cried in the car on the way home. I was scheduled to have the biopsy the following Monday, but I actually cancelled the appointment out of sheer terror."
A few days later she built up the courage to have the biopsy and Meesha's worst fear was confirmed: she had stage 2 breast cancer. Because she had no medical aid, Meesha was referred to Dr Ines Bucchimaza, head surgeon at the breast clinic at Albert Luthuli Hospital. "She is a Polish doctor, and the kindest person I've ever met. She made me feel so safe."
Meesha's treatment plan consisted of six rounds of aggressive chemotherapy to shrink the tumour followed by a mastectomy. Her hair started falling out 10 days after she started chemo. Meesha's surgery was booked for February 2017 but, after finding out she had tested positive for the BRCA1 cancer gene, the plan changed. "The day I found out I tested positive for the gene was one of the worst days of my life. It was worse than finding out I had cancer, because I realised I could pass the gene on to my daughters. It broke me." It was during this time, Meesha says, that founder of the Pink Phoenix foundation and stage 4 cancer survivor, Sharon van Straaten's support became invaluable. She was incredibly kind and was there for me every step of the way."
Meesha had a bilateral mastectomy (removal of both breasts) and removal of 15 lymph nodes, with immediate reconstruction on 1 March 2017. She was in hospital for 10 days. Meesha had temporary saline bags implanted, which would be slowly filled up over the course of a year to prepare her body for permanent implants. But, in January 2018, just two weeks before she was booked to have her surgery, things went wrong again. "Both my saline implants had a reaction and had to be removed and then I found another lump." After having a full hysterectomy in February, she then discovered that the cancer was back. It spread to her chest and glands but luckily there is no organ involvement.
Meesha is halfway through her second round of chemo and, although she had to stop working and says she's finding it hard to stay positive, she is not giving up. "I force myself to get up and get going every day. I have to be there for my girls. I have to carry on fighting."
One very positive thing that has come out of Meesha's journey is her creation of the Showersafe Wear water resistant jacket. "After my surgery I had bandages and three drains and it was so hard to shower. I used cling wrap and dustbin bags, but nothing really worked." A creative person at heart, Meesha set about creating the jacket which would help ladies through the very challenging time after a mastectomy or other chest surgeries. The Showersafe Wear is R420 (but Meesha is working on making a disposable, more affordable version), and is the perfect gift for a friend who is about to undergo surgery. "I donated the first batch I made to the Albert Luthuli Hospital. I wanted to give back to them after they treated me so incredibly well. The nurses and doctors have been wonderful." Details: The jacket is available online (www.pinkphoenix.co.za) or at the Umhlanga Medisport Pharmacy.
Text: Leah Shone | Makeup: Pam McNeil, Nixon | Photography: Sean Baker Photography | Shoot location: Shri Mariamman Temple Mount Edgecombe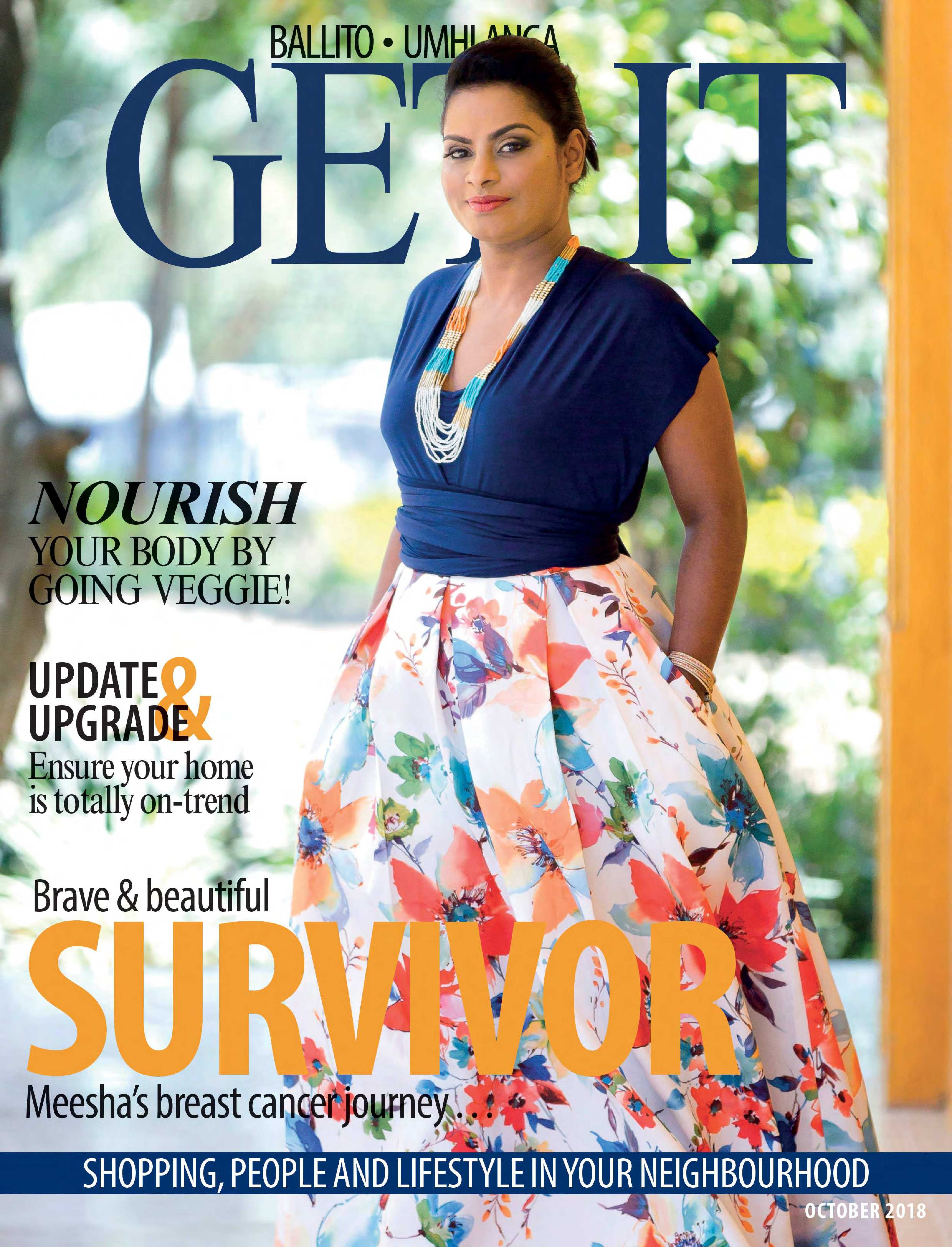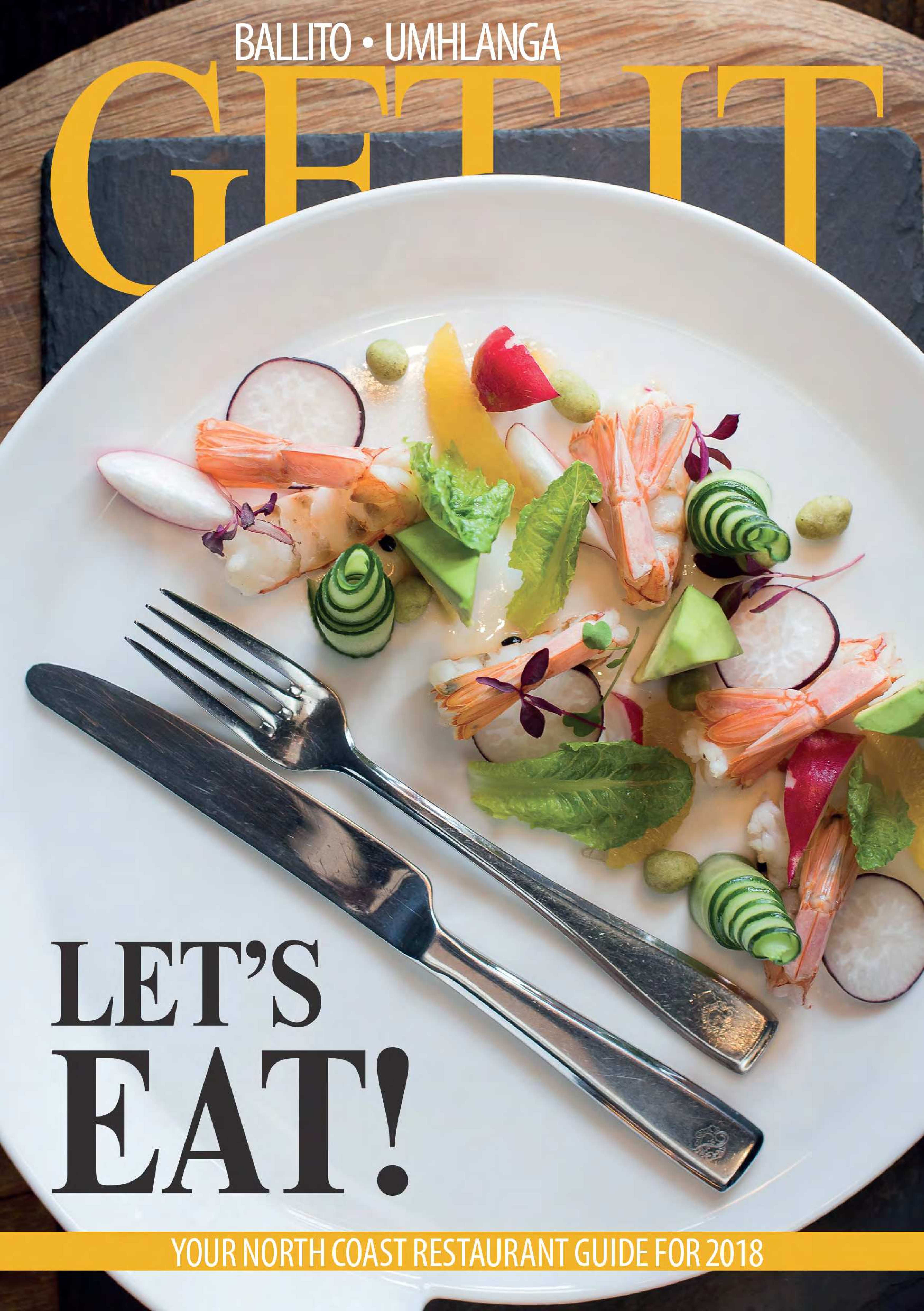 October spoil
Welcome summer with an extraordinary rosé
WIN a set of lamps for you and your bestie
In celebration of the Weylandts Home Store opening at the Ballito Lifestyle Centre we have two sets of lamps valued at R1 495 per lamp to giveaway to a reader and his or her bestie…
Spring spoil
We're celebrating the arrival of spring with a sundowner picnic…
is a national brand of premium free magazines available in centres across the country.
to see other Get It magazines in the network.